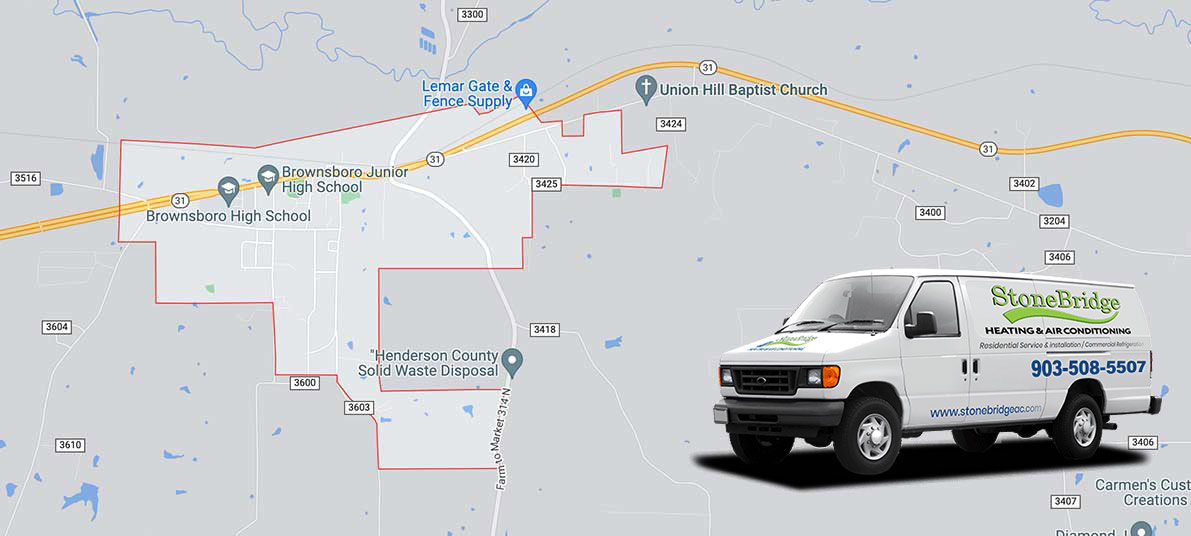 Are you hot and uncomfortable in your house, even with the air conditioner running? You might need to have your system inspected by a professional to determine if it needs to be repaired or replaced. When you need to schedule an appointment in Brownsboro, TX, call StoneBridge Heating & Air Conditioning for services. We offer straightforward pricing and guarantee to arrive on time.
Make us your first call when you need air conditioning repairs in Brownsboro. Read our testimonials to learn why.
We provide complete cooling services to Brownsboro, including:
Air Conditioning Repair
Air Conditioning Installation
Air Handler Services
Evaporator Coil Services
Filter Replacement
AC Refrigerant Leak Repair
Commercial HVAC
Signs Your Air Conditioner Needs To Be Repaired
To avoid having to endure a hot and uncomfortable house this summer, it's important to have your air conditioner serviced by a professional at the first signs of an issue. Some signs to watch for that can indicate your unit needs to be repaired can include:
Your property is no longer reaching its desired temperature, or there is a complete absence of cold air.
You notice water pooling under your ducts or near the drain tube.
Your unit is not cooling your property evenly.
You see an increase in your monthly cooling costs.
Easy Ways To Save Money on Your Cooling Costs
Let's face it, keeping your house cool and comfortable during a Texas summer can result in expensive utility bills. Fortunately, you can reduce these costs by:
Ensuring your home is properly insulated.
Replacing air filters regularly.
Having your system inspected and tuned up at least once a year.
Using a programmable thermostat.
Turning your unit down a few degrees.
Replacing your outdated system.
Using fans.
Closing drapes on sunny days.
Need help paying for your air conditioning repairs? Contact us to learn about our financing options.
Benefits of Timely Evaporator Coil Services
When your evaporator coil malfunctions, it can benefit you to have it repaired or replaced as soon as possible. The advantages can include:
Cost savings: Early detection can be the difference between repair and replacement. Repairing evaporator coils under warranty is a cost-effective choice when the issue is not very severe.
Increased comfort: Replacing or repairing evaporator coils regularly ensures that comfortable air is produced without any interruptions.
Energy reduction: When the coil fails, the air conditioner may continue to run, but more energy is being used to attempt to reach an adequate temperature in your home or building. Keeping this essential part functioning lowers energy costs and is also eco-friendly.