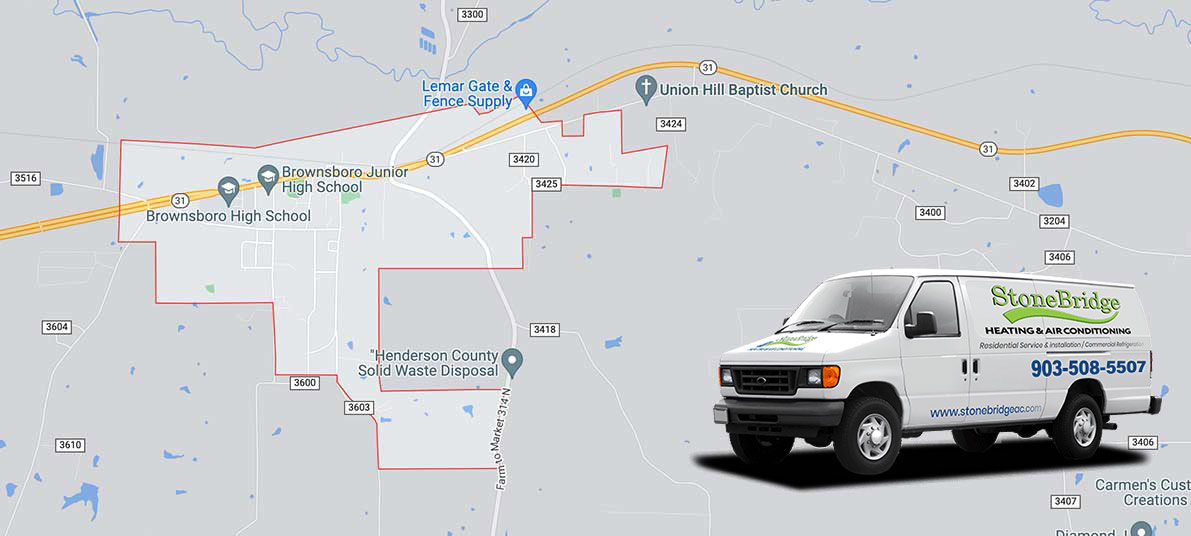 Are you hot and uncomfortable in your house, even with the air conditioner running? You might need to have your system inspected by a professional to determine if it needs to be repaired or replaced. When you need to schedule an appointment in Brownsboro, TX, call StoneBridge Heating & Air Conditioning for services. We offer straightforward pricing and guarantee to arrive on time.
Make us your first call when you need air conditioning repairs in Brownsboro. Read our testimonials to learn why.
We provide complete cooling services to Brownsboro, including:
Air Conditioning Repair
Air Conditioning Installation
Air Handler Services
Evaporator Coil Services
Filter Replacement
AC Refrigerant Leak Repair
Commercial HVAC
Signs Your Air Conditioner Needs To Be Repaired
To avoid having to endure a hot and uncomfortable house this summer, it's important to have your air conditioner serviced by a professional at the first signs of an issue. Some signs to watch for that can indicate your unit needs to be repaired can include:
Your property is no longer reaching its desired temperature, or there is a complete absence of cold air.
You notice water pooling under your ducts or near the drain tube.
Your unit is not cooling your property evenly.
You see an increase in your monthly cooling costs.
Easy Ways To Save Money on Your Cooling Costs
Let's face it, keeping your house cool and comfortable during a Texas summer can result in expensive utility bills. Fortunately, you can reduce these costs by:
Ensuring your home is properly insulated.
Replacing air filters regularly.
Having your system inspected and tuned up at least once a year.
Using a programmable thermostat.
Turning your unit down a few degrees.
Replacing your outdated system.
Using fans.
Closing drapes on sunny days.
Need help paying for your air conditioning repairs? Contact us to learn about our financing options.
Benefits of Timely Evaporator Coil Services
When your evaporator coil malfunctions, it can benefit you to have it repaired or replaced as soon as possible. The advantages can include:
Cost savings: Early detection can be the difference between repair and replacement. Repairing evaporator coils under warranty is a cost-effective choice when the issue is not very severe.
Increased comfort: Replacing or repairing evaporator coils regularly ensures that comfortable air is produced without any interruptions.
Energy reduction: When the coil fails, the air conditioner may continue to run, but more energy is being used to attempt to reach an adequate temperature in your home or building. Keeping this essential part functioning lowers energy costs and is also eco-friendly.
Local Reviews
for Brownsboro, TX
Powered by Nearby Now
---
Daniel L.
Attempt to clear. Main Line Stoppage Through Toilet 75' Main Line Stoppage Through Toilet 75' R & R Toilet - run the cable machine first from a kitchen sink clean out. The cable pulled out wipes and female products but didn't clear the clog. I was going to pull the master toilet and run the cable machine. But the wife states that she thought there was a outside clean out. So I crawled under the house and looked at the sewer line and which way it was going. I then crawled out and found the outside clean out because I could see the way the pipe was running from under the house. The outside clean out was under about 6 inches of dirt. I then had to run 3 different heads on the cable to clear the line from the clog. The sewer line is now open. And working properly. - I offered to run the camera. They decided to wait. If any more issues they will choose the camera option. 30 day warranty. End 1/02/2023 PLEASE MAIL PAPER INVOICE
Near

Private Rd 7301,

Brownsboro

,

TX

75756
Daniel L.
Whole House Gas Piping Air Test (Concealed Piping) - disconnect the gas pipe at the meter going to the house. Install a pressure gauge. Air up the gas line system with air begin testing for leakage in the gas pipe system. The yard line is about 120-130 feet from the meter to the house. Gas leak could possibly be underground. Will check the crawlspace. Might have to cut sheetrock (NO SHEETROCK REPAIR). Once source of the leak is found quote for repair will be given. *** gas system air tested after repairs made in crawlspace under the house. The gas system is now leak free. Flexible Interior Gas Pipe 1/2-IN Up To 10-FT Install Flexible Gas Piping For Gas Appliance Up To 10-FT
Near

Ingram St,

Brownsboro

,

TX

75756
Michael K.
Replace section of improper repair and install with mega press gas fittings after repair is made air test the gas line to make sure there are no more leaks, pressured up gauge to 15 psi tested for 20 min sprayed all fittings with bubble tested and there are no more leaks at this time
Near

Farm to Market 607 N,

Brownsboro

,

TX

75756
Mark M.
Filters are 20x25x1 and (2) 14x25x1 Performed spring esa on 2 systems. Cleared drains, washed coils, and checked electrical components. Found Lennox system completely empty on refrigerant. Found leak on true suction line where compressor wires has sparked and created hole in copper. Repairs leak, pressure tested system, and pulled vacuum. Added 7 pounds of refrigerant to achieve desired subcooling. Both systems are running properly at this time.
Near

State Hwy 31 E,

Brownsboro

,

TX

75756
Johnathan T.
Performed all spring maintenance duties. Cleared condensate drain, cleaned off dirty condenser coil and replaced dual run capacitor. System is operating properly at this time.
Near

Lone Pine Dr,

Brownsboro

,

TX

75756