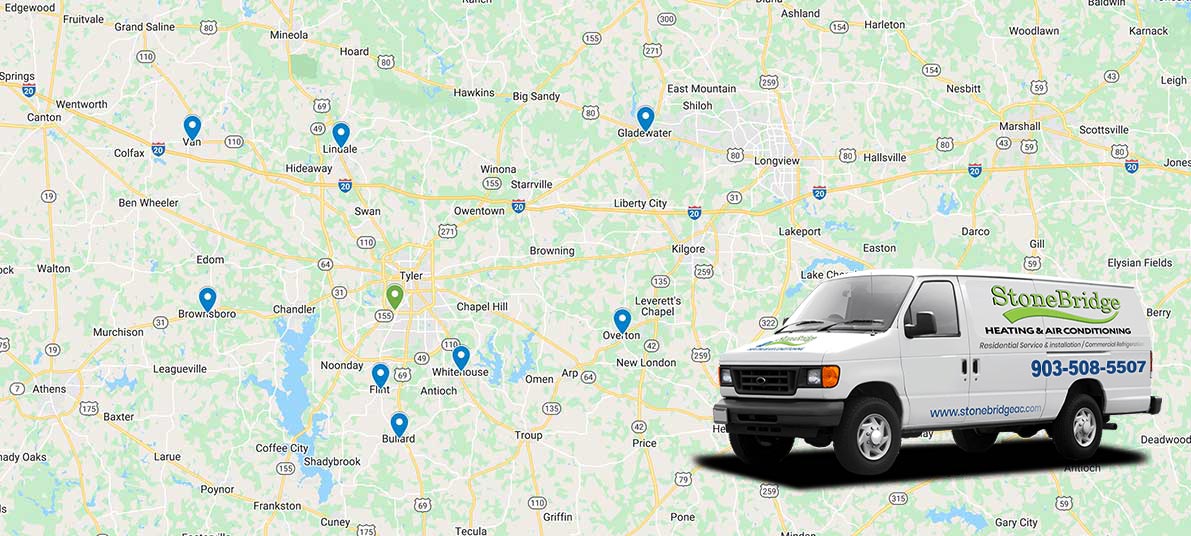 Don't delay when your air conditioner or heating system malfunctions. You need to schedule professional repairs or replacements as soon as possible. Call StoneBridge Heating & Air Conditioning for services in Tyler, TX and the surrounding areas. When you call us, we guarantee to send trustworthy technicians to your home.
We value our customers' feedback. Read our testimonials to find out what they think of our HVAC services!
Proudly Serving Tyler & Surrounding Areas
We proudly provide heating and cooling services to the following areas:
Simple Ways To Save On Your Cooling Costs
It's essential to keep your house at a comfortable temperature all summer to stay cool and healthy when you're home. However, this can take a toll on your utility bills. Fortunately, you can reduce these expenses by doing the following:
Ensure your property is properly insulated.
Replace your air filters regularly, about every three months.
Schedule a yearly inspection with a professional.
Install a programmable thermostat.
Try turning your unit down a few degrees to save on energy.
Replace your outdated system with a newer unit.
Use fans to help circulate the air.
Close drapes on sunny days to keep extra heat out.
Signs Your Furnace Needs Repairs
You don't want to wait until winter weather arrives to find out your furnace isn't working. Instead, watch for these signs that indicate your unit needs to be repaired, and schedule professional services:
Short cycling: If the unit runs for less than three minutes before it shuts off, this is known as short cycling. This can be due to a malfunctioning heat exchanger or it could signal that your thermostat needs to be recalibrated.
Irregular flames: If the flames in your unit are uneven or if they lean toward the back of the furnace, it could be because of dirty burners, or it could indicate a larger problem – like a cracked heat exchanger. This can lead to a dangerous carbon monoxide leak and needs to be inspected immediately.
Unusual sounds: If your forced-air system starts to make rumbling, popping, or whistling sounds, it should be inspected by a professional to diagnose the problem.
Cracked heat exchanger: As mentioned above, a cracked heat exchanger is an incredibly serious issue that can cause a carbon monoxide leak. If you suspect you have this issue, evacuate your property as soon as possible and contact a professional to inspect the problem.
We understand that unexpected plumbing or HVAC repairs are not always in your budget. Don't worry – we offer financing options to our customers.
Benefits of Installing a New Air Conditioner
Installing a new air conditioner can have several benefits for your household, including the following:
Increased energy efficiency, which can lead to lower utility bills.
Maximum indoor climate control to ensure your house is comfortable.
Improved indoor air quality to keep your family healthy.
Longer shelf life to keep the unit running longer.
New technology and features to give you the latest bells and whistles.