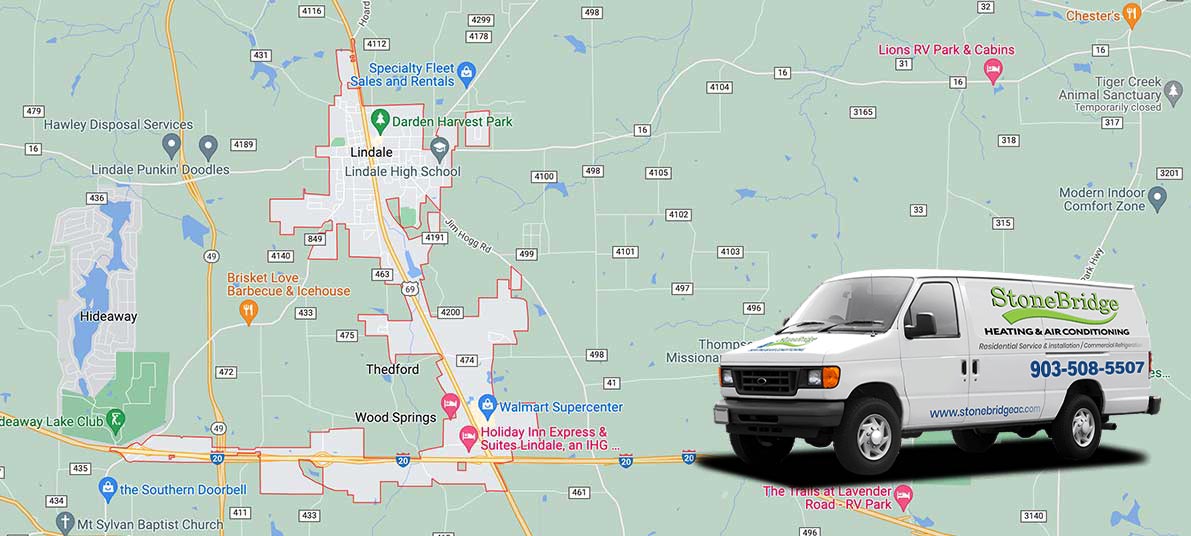 Is your aging furnace up to the task of keeping your house properly heated? If it's not, then it's time to consider installing a new system, or scheduling repairs on your existing unit. Call StoneBridge Heating & Air Conditioning for services in Lindale, TX. We offer 24-hour heating services to all of our clients.
Read our testimonials to learn why you should call us when you need heating repairs in Lindale.
We provide complete heating services to Lindale, including:
Commercial HVAC
Heater Repair
Heater Installation
Furnace Repair
Furnace Installation
Heat Pump Services
Radiant Heating
Filter Replacement
Smart Home Thermostats
Common Furnace Issues
It's never convenient to have your furnace malfunction, but unfortunately, it does happen from time to time. Some common reasons your unit might need professional services are:
Lack of maintenance: Failing to schedule regular maintenance visits with our certified professionals can lead to a number of issues with your unit.
Dirty or clogged filters: Forgetting to replace the filter can hinder your unit's performance and lead to issues.
Mechanical wear and tear: As your system ages it will start to develop more frequent issues and begin to lose efficiency.
Malfunctioning thermostat: If your unit is running but it's not reaching the setting on the thermostat, schedule a service appointment.
Inadequate airflow: Disrupted air flow can cause your unit to overheat.
Carbon monoxide leak: Cracks in your unit can lead to a highly dangerous carbon monoxide leak. If the pilot light on your unit has turned from blue to yellow, you notice an excessive amount of condensation on your windows, or start to feel sick in any way, evacuate your property and call for emergency services.
Signs Your Furnace Needs Emergency Repairs
If you notice the following symptoms, it can indicate you need to schedule emergency repairs on your furnace:
Short cycling: When the unit runs for less than three minutes at a time before it shuts off, this is known as short cycling. This problem could indicate a malfunctioning heat exchanger or that your thermostat needs to be recalibrated.
Irregular flames: If you look at the burners on your system they should have relatively even rows of flames. They should not be uneven or lean toward the back of the unit. If they do, it could mean your burners are dirty, or it could indicate a more serious issue, like a cracked heat exchanger. This can lead to carbon monoxide poisoning and needs to be dealt with right away.
Unusual sounds: If you have a forced-air system and you hear rumbling, popping, or whistling when the unit is running it could indicate a number of problems and needs to be inspected by a professional.
Cracked heat exchanger: If you have frequent headaches or flu-like symptoms, it could signal a carbon monoxide leak from a cracked heat exchanger. Call a professional as soon as possible for emergency services.
If you experience these issues, call StoneBridge Heating & Air Conditioning for services.
We understand that your heating system doesn't always break down when it's financially convenient. Call us to learn about our financing options.
Signs Your Heater Needs To Be Replaced
If your heater is showing signs of aging, or any of the following symptoms, it can be time to replace your unit:
It needs multiple repairs.
Your utility bills are increasing without a change in usage.
It has a cracked heat exchanger.
It is losing efficiency.
It cannot heat your home properly and evenly.