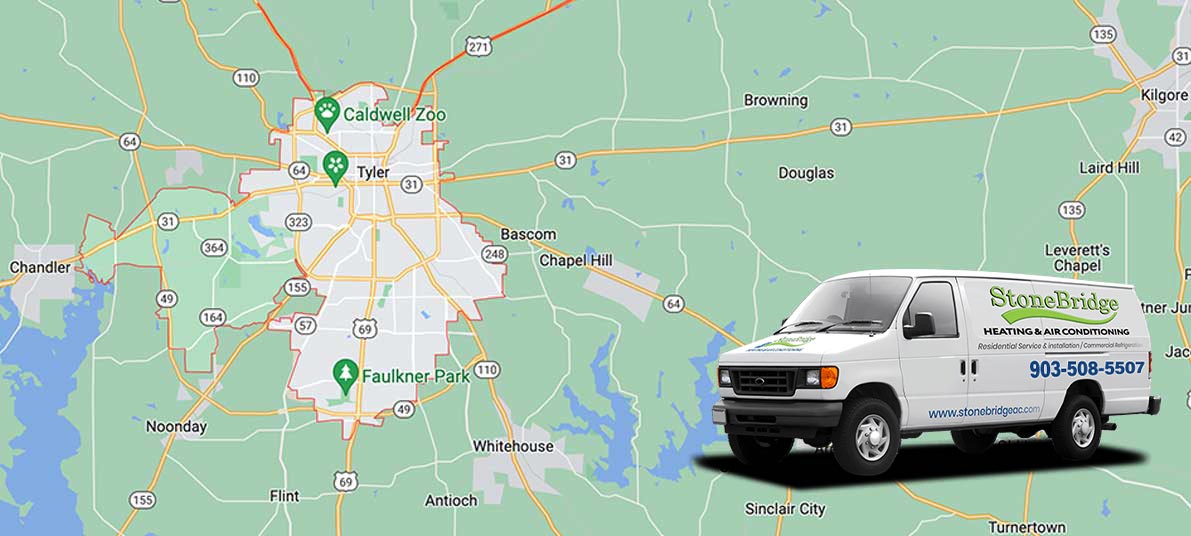 While we tend to focus on coping with the summer heat in Texas, it's also important to be comfortable in the winter months. Make sure your heating system is able to keep your house warm and comfortable. Call StoneBridge Heating & Air Conditioning for heater repairs and furnace installations in Tyler, TX. We provide 24-hour services to ensure your unit is up and running quickly.
We offer the following heating solutions:
Is it time to replace your aging furnace? Contact us to learn about our furnace installation services.
Signs Your Heater Needs Repairs
Watch for symptoms that your heater needs professional repairs to ensure you schedule services quickly. Some signs that can indicate your unit needs to be serviced include:
Your property isn't warming to the desired temperature.
Heat isn't being evenly distributed throughout your home or building.
You hear loud or unpleasant noises coming from the unit.
Your monthly utility bill increases.
The temperature in your home doesn't match the setting on the thermostat.
You suspect your ductwork is leaking.
Benefits of Installing a New Heater
It's essential to install a new heater when the unit starts to malfunction. Installing a new system provides the following advantages:
A more energy-efficient system that can result in lower utility bills.
Increased comfort, allowing you to properly control the property's indoor temperature.
Better indoor air quality with a filtration system that properly removes particles from the air.
Assurance that you likely won't need repairs on your unit in the near future.
Even heating without temperature inconsistencies, preventing hot and cold spots throughout your home or building.
Is your heater failing to properly warm your house? Learn about our heater repair services.
Common Furnace Problems
Unfortunately, from time to time your furnace may require professional repairs. Some common issues the system might encounter include:
Problems caused by not having your system inspected or tuned up at least once a year.
Wear and tear caused by aging. This can require more frequent repairs.
The temperature in your home doesn't match the setting on the thermostat.
Disrupted airflow, which can cause your unit to overheat.
Clogged filters due to not replacing them regularly – about every three months. This can lead to dust, dirt, and debris accumulating in your system. This buildup can cause the unit to overwork and can lower the indoor air quality in your home.
A very serious problem like a carbon monoxide leak. If you suspect you have a leak it's important to evacuate the property as soon as possible as it can cause illness or even death.