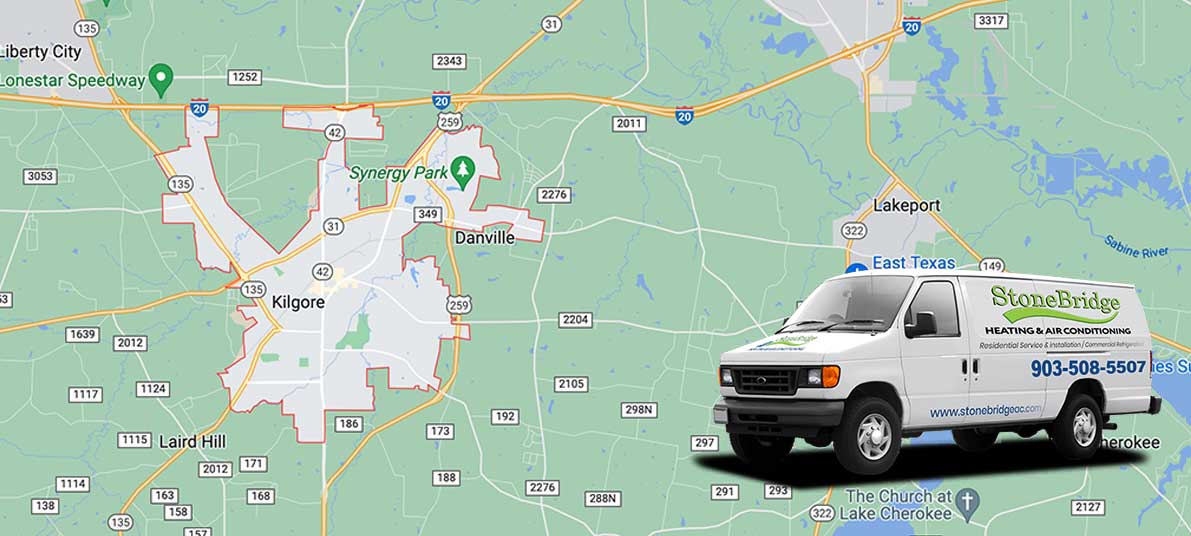 Is your heating system malfunctioning? Have it inspected by a professional to determine what's wrong with the unit, and repair it. Call StoneBridge Heating & Air Conditioning to have our experts evaluate your system. Our trustworthy technicians guarantee to arrive on time and to use the latest technology.
Read our testimonials to find out why your Kilgore neighbors call us for heating repairs and replacements.
We provide complete heating services to Kilgore, including:
Heater Repair
Heater Installation
Smart Home Thermostats
Filter Replacement
Radiant Heating
Heat Pump Services
Furnace Repair
Furnace Installation
Commercial HVAC
What To Expect During a Heater Tune-up
When your heater needs routine maintenance, call our experts at StoneBridge Heating & Air Conditioning. During a tune-up, you can expect our technicians to:
Shut off power to the system.
Inspect the inner components of the system to ensure they're operating correctly.
Replace worn-out parts or belts.
Ways To Maintain Your Furnace
To ensure your furnace works when you need it during the chilly winter months, you need to perform regular maintenance on it. Some tasks can include:
Schedule a yearly inspection in the late spring or early autumn to identify issues with your unit.
Replace filters regularly, usually every three months, to remove a buildup of debris.
Install a carbon monoxide monitor in your home, and have it inspected by a professional.
Examine the air ducts to make certain that they are sealed properly and will not leak hot air.
Check the blower to make sure there are no obstructions.
Inspect the inside of the chamber to look for rust, holes, and separated seams.
Clean the burners with fresh water to remove any dust and debris. This will ensure safer and more efficient burning.
Clean the sensor and pilot with a wire brush and an emery cloth. This will help ensure that these devices operate effectively.
Keep the area around the unit clean and unobstructed for safety and accessibility.
Are heating repairs not in your budget? Contact us to learn about our financing options.
When You Should Replace Your Heater
It's important to know what symptoms to watch for that can indicate you need to replace your heater.
If it's nearing the end of its lifespan.
Multiple repairs. If your unit needs several repairs.
Utility bills continue to go up. If your bills increase without a change in usage.
Cracked heat exchanger. This can lead to a dangerous carbon monoxide leak.
Cannot heat your home properly. If your system loses efficiency and can't heat your home to the ideal temperature.