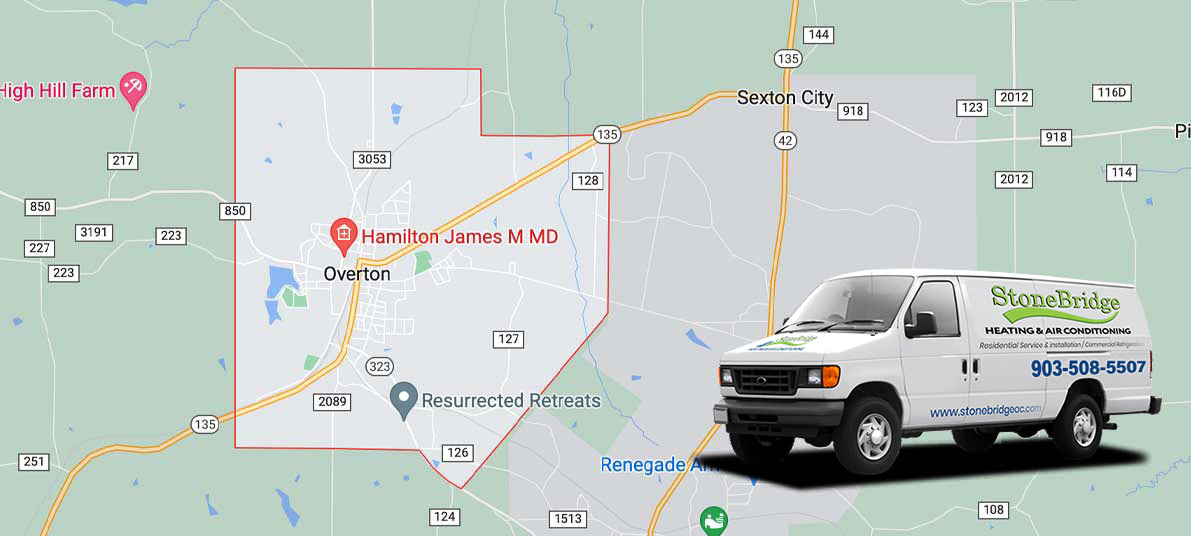 Is your furnace making odd noises? Is your heater struggling to keep your house at a comfortable temperature? You need professional heating services to repair or replace your system. Call StoneBridge Heating & Air Conditioning for appointments in Overton, TX. When you schedule an appointment with our experts, we guarantee to arrive on time.
Read our testimonials to find out what our customers think of our services.
We provide complete heating services to Overton, including:
Heater Repair
Heater Installation
Furnace Repair
Furnace Installation
Filter Replacement
Radiant Heating
Smart Home Thermostats
Heat Pump Services
Commercial HVAC
Signs Your Heater Needs To Be Repaired
When your heater malfunctions, it's important to schedule services as soon as possible. Watch for these signs that can indicate your unit needs repairs:
Your property doesn't get warmer.
Heat is not being evenly distributed throughout every room in your house.
Your system begins to make loud and unpleasant sounds.
Your monthly utility bills continue to rise without any change in use.
Your thermostat is malfunctioning.
Your ductwork is leaking.
Ways To Maintain Your Furnace
It's essential to keep your furnace properly maintained to keep it working correctly all winter. Some tasks you should perform include:
Arrange for a yearly inspection with an expert in the late spring or early autumn.
Replace your filters regularly, usually every three months. Dust, pet dander, and other particles can build up on the working surfaces of the unit and cause a number of issues.
Install a carbon monoxide monitor in your property. This should also be inspected regularly in order to make sure that it is functioning properly.
The furnace ducts must be examined to make certain that they are sealed properly and will not leak hot air.
Check the blower to make sure there are no obstructions. If needed, it may also have to be lubricated.
Inspect the inside of the unit for defects including rust, holes, and separated seams.
Clean the burners using fresh water to remove any dust and debris. This will ensure safer and more efficient burning.
Clean the sensor and pilot with a wire brush and an emery cloth. This will help ensure that these devices operate effectively.
Check the "high limit" on the unit to prevent overheating.
Keep the area around the system clean and unobstructed for safety and accessibility.
When you need help paying for your heating repairs, contact us to learn about our financing options.
Benefits of Installing a New Heater
There are many advantages to installing a new heater in your home. Some of the top benefits can include:
A more energy-efficient unit. This can lead to reduced utility bills.
Increased comfort with better climate control.
Better indoor air quality.
Peace of mind that you won't need repairs anytime soon.
Even heating without temperature inconsistencies.