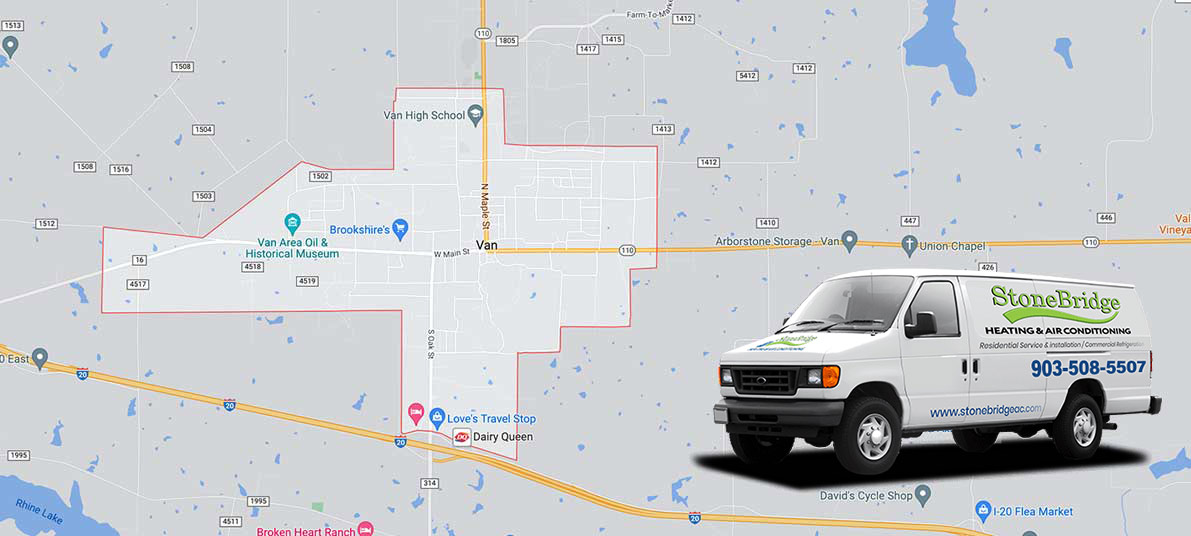 Is your house hot and uncomfortable, even when your air conditioner is running? Your unit could require professional repairs – or even need to be replaced. For services in Van, TX, call StoneBridge Heating & Air Conditioning. When you call us, we will offer 24-hour services and provide straightforward pricing.
Why should you call us when you need air conditioning services? Read our testimonials to find out.
We provide complete cooling services to Van, including:
Air Conditioning Repair
Air Conditioning Installation
Commercial HVAC
Filter Replacement
Air Handler Services
Evaporator Coil Services
AC Refrigerant Leak Repair
Common Air Conditioner Issues
While it would be ideal if your air conditioner always worked as expected, it will occasionally require professional repairs. Some common issues your system might experience include:
The unit is not producing cold air, even when the thermostat is turned to the lowest setting.
Your unit is not effectively or efficiently cooling your house.
There are hot and cold spots in your house, signaling uneven heating.
You notice moisture leaking from your system.
Benefits of Installing a New Air Conditioner
Installing a new air conditioner can have many benefits for your entire household. Some of the top advantages can include:
A more energy-efficient system. This can result in reduced utility bills.
Maximum indoor climate control to keep your house at an ideal temperature.
Improved indoor air quality.
Longer shelf life and assurance that you will not need to replace your unit in the near future.
New technology and features to let you improve the comfort level in your property.
Contact us to learn about our financing options to take pressure off of having to pay the bill today.
How Often Should You Replace Your AC Filters?
It's essential to replace your air conditioner's filter regularly. How often can be based on the following guidelines:
Replace the filter every six months for households without pets.
Change every three months if you live in an urban area.
Replace every two months if you have a pet.
Change every month if a person in the household has pet allergies.
Replace more often during times of extended AC use.
Local Reviews
for Van, TX
---
Chad H.
Run drill snake down tub waste and overflow to attempt to unstop bath tub Remove garbage disposal and rework drain under kitchen sink Put new basket strainer and drain piping
Near

S Oak St,

Van

,

TX

75790
Ray A.
Customer has leak in the yard will have to dig area find exact leak and repair arrived at home nov 29. Water was already turned off my apprentice and I turned the water back on for a short period of time to locate the leak there were no locks on the meter at that time used meter key to open meter valve. Customer turned the water off herself before arrival repaired originally with a swing joint pvc fittings kept blowing off placed a prv in the meter box to reduce the pressure allowed air to escape down the line to relieve the mainline from hammering which will also increase the pressure waited around 35 minutes after water was completely on with no issues at all. Line is roughly 150ft or more. Original swing joint that blew off I took that out and replaced with new pvc fittings
Near

VZ County Road 4912,

Van

,

TX

75790
Chad H.
Change out pop up assembly in guest bathroom Chrome
Near

Colorado St,

Van

,

TX

75790
Bryant R.
Water leak on main line in flower bed male adp broken in old gate valve that shut the house down cut out fitting and made the repair and replaced old shut off valve
Near

W Kansas St,

Van

,

TX

75790
Michael K.
Shut off water drain water heater remove both thermostats and elements and install 2 new thermostats and 2 new elements, thermostats were turned up all the way causing the elements to burn out and work thee thermostats harder causing them to go bad. Installed new thermostats and elements turned the water on and got all of the air out of the line and turned the power back on tested elements and thermostats and everything is working properly at this time with no leaks, if thermostats are turned up higher than the 125 we set them to it will void our warranty.
Near

E Main St,

Van

,

TX

75790