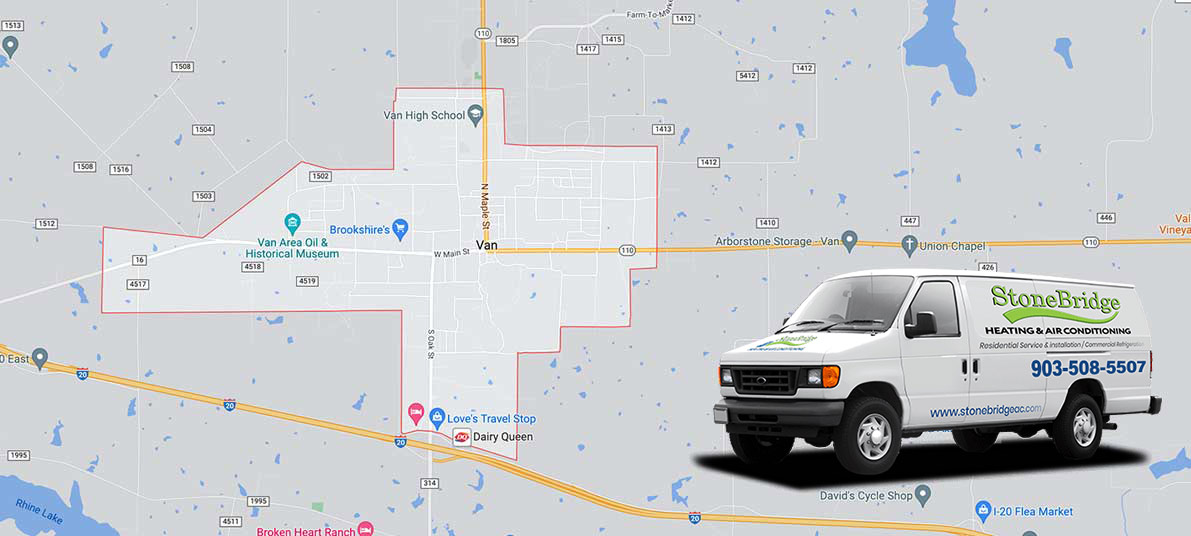 Is your house hot and uncomfortable, even when your air conditioner is running? Your unit could require professional repairs – or even need to be replaced. For services in Van, TX, call StoneBridge Heating & Air Conditioning. When you call us, we will offer 24-hour services and provide straightforward pricing.
Why should you call us when you need air conditioning services? Read our testimonials to find out.
We provide complete cooling services to Van, including:
Air Conditioning Repair
Air Conditioning Installation
Commercial HVAC
Filter Replacement
Air Handler Services
Evaporator Coil Services
AC Refrigerant Leak Repair
Common Air Conditioner Issues
While it would be ideal if your air conditioner always worked as expected, it will occasionally require professional repairs. Some common issues your system might experience include:
The unit is not producing cold air, even when the thermostat is turned to the lowest setting.
Your unit is not effectively or efficiently cooling your house.
There are hot and cold spots in your house, signaling uneven heating.
You notice moisture leaking from your system.
Benefits of Installing a New Air Conditioner
Installing a new air conditioner can have many benefits for your entire household. Some of the top advantages can include:
A more energy-efficient system. This can result in reduced utility bills.
Maximum indoor climate control to keep your house at an ideal temperature.
Improved indoor air quality.
Longer shelf life and assurance that you will not need to replace your unit in the near future.
New technology and features to let you improve the comfort level in your property.
Contact us to learn about our financing options to take pressure off of having to pay the bill today.
How Often Should You Replace Your AC Filters?
It's essential to replace your air conditioner's filter regularly. How often can be based on the following guidelines:
Replace the filter every six months for households without pets.
Change every three months if you live in an urban area.
Replace every two months if you have a pet.
Change every month if a person in the household has pet allergies.
Replace more often during times of extended AC use.
Local Reviews
for Van, TX
Powered by Nearby Now
---
Michael K.
Cut hole in wall and find leak in master bathroom shower wall and fix leak c woods is not responsible for any drywall damages leaking from shark bite fitting in wall, removed all shark bite fittings and reattached using Propress fittings no further leaks at this time.
Near
FM1995,

Van

,

TX

75790
Aaron H.
Found bad capacitor replaced capacitor and tested system looked over rest of system everything is operating properly customer stated a water issue drain is ran in an open room with a drain in the floor tied to main plumbing which the plumbing line is backing up recommend having a plumber come out and take a look tenant is going to monitor drain at this moment
Near
W Kansas St,

Van

,

TX

75790
mack.ryan1610@gmail.com
On arrival homeowner informed that indoor was running without outdoor unit. Found bad 70/7.5 capacitor. Had to build with turbo. Tested unit and condenser did start after capacitor replacement. Contactor was in good shape. Cf .6a cp 5.43a PSI 410A 145/360 9.4 degrees sub cooling. System could use maintenance. Will send est for ESC. Standard Rejuv Kit and ESC membership Water washed coil and completed first spring tune up. 17 degree differential in home. Changed filter 20/20/1 for homeowner.
Near
County Rd 447,

Van

,

TX

75790
Aaron H.
Found clogged drain line cleared with Esa maintenance checked and tightened all electrical connections and components checked refrigerant pressures and washed condenser coil filter size 16x25x1 system is operating properly at this time
Near
N Oak St,

Van

,

TX

75790
Aaron H.
Added 6in supply,tap,and grill to kitchen area also added 14in damper to duct run that covers living room and master bedroom set damper and checked airflow across all grills. Showed homeowner how to adjust damper if fine tuning is needed 0
Near
FM1995,

Van

,

TX

75790