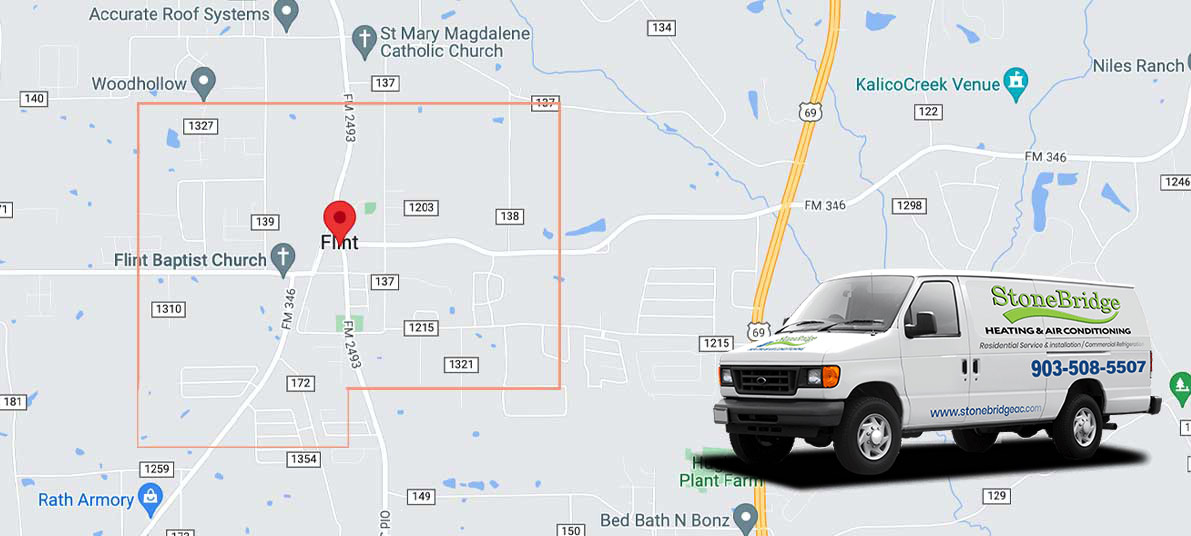 When your furnace stops working correctly, it's important to schedule professional repairs as soon as possible to ensure you can get your unit up and running quickly to restore comfort to your house. For repairs, maintenance, and replacements, call StoneBridge Heating & Air Conditioning for services in Flint, TX. Our experts provide straightforward pricing.
We value all of the feedback we get from our customers. Read our testimonials to find out what they think of our services.
We provide complete heating services to Flint, including:
Heater Repair
Heater Installation
Smart Home Thermostats
Furnace Repair
Furnace Installation
Filter Replacement
Radiant Heating
Heat Pump Services
Commercial HVAC
Common Problems You Could Experience With Your Heater
Unfortunately, from time to time your heater can experience issues that will require professional repairs. Some common problems you might encounter include:
Uneven heating: Hot and cold spots throughout your house could indicate that your system is failing.
Shuts down: If your system shuts on and off frequently, it can be due to faulty wiring, a failing pilot light for gas-powered systems, or even a malfunctioning thermostat.
Long time to heat: If your system takes a long time to heat up, it can be due to leaky air ducts in your property, a damaged fan motor, or problems with the belts and bearings.
Symptoms That Indicate Your Furnace Needs To Be Repaired
It's essential to have your furnace repaired at the first signs of an issue to avoid an interruption of service in your house – which can lead to a cold home. Some signs that can indicate you need professional repairs are:
Short cycling: When the unit runs for less than three minutes at a time before it shuts off. This could indicate a malfunctioning heat exchanger or that your thermostat needs to be recalibrated.
Irregular flames: If you look at the burners on your system they should have relatively even rows of flames. If the flames are uneven or lean toward the back of the unit, it could mean your burners are dirty or the heat exchanger is cracked. Cracked heat exchangers can lead to carbon monoxide poisoning and need to be dealt with right away.
Unusual sounds: If you have a forced-air system and you hear rumbling, popping, or whistling when the unit is running it could indicate a number of problems.
Cracked heat exchanger: If you have frequent headaches or flu-like symptoms, the heat exchanger on your unit may be cracked. A cracked heat exchanger can cause a carbon monoxide leak.
Contact us to learn about our financing options to help you pay for your unexpected heating repairs.
Ways a Malfunctioning Heater Can Impact Your Home
When your heater breaks down, it can have several impacts on your house. Some issues you might experience include:
Lower comfort levels in your house.
Risk of your family becoming ill from the lower temperatures or a dangerous situation, like a carbon monoxide leak.
Reduced indoor air quality.
Increased monthly utility costs.