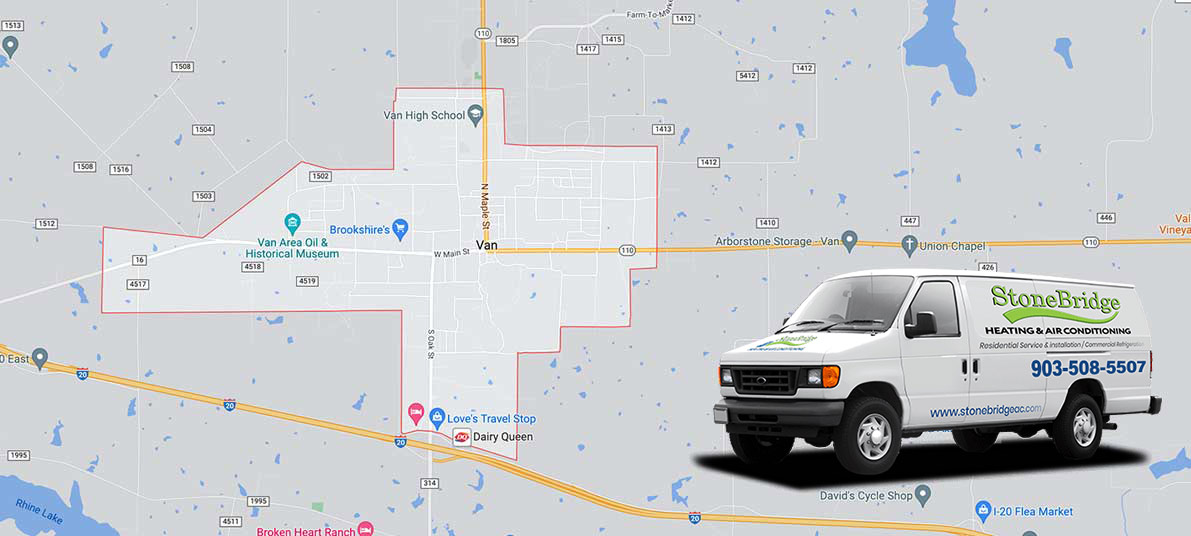 Do you need to layer on blankets just to stay warm in your house during the winter months? If your house is not heating to the temperature setting on your thermostat, you may need repairs on your heater or furnace. Call StoneBridge Heating & Air Conditioning to schedule an appointment in Van, TX. We offer 24-hour services to ensure we get your system up and running quickly.
When your Van neighbors need repairs on their heating system, they call us. Read our testimonials to learn why.
We provide complete heating services to Van, including:
Commercial HVAC
Heater Repair
Heater Installation
Furnace Repair
Furnace Installation
Filter Replacement
Smart Home Thermostats
Heat Pump Services
Radiant Heating
Signs Your Heater Needs To Be Repaired
When you suspect your heater needs to be repaired by a professional, it's important to schedule services as soon as possible. Some symptoms that can indicate your unit needs repairs include:
Your property doesn't get warmer, even when the heater is running.
Heat is not being evenly distributed throughout your property.
Your system makes loud and unpleasant noises.
Your monthly bills rise without any change in use.
Your thermostat is malfunctioning.
Your suspect your ductwork has a leak.
Benefits of Installing a New Furnace
We get that it can be a large undertaking when deciding to install a new furnace. However, replacing your outdated unit can come with a lot of benefits. Some advantages can include:
The latest features and updates to provide you with maximum climate control.
A more energy-efficient unit, which can result in lower utility bills.
A more quiet unit.
Even and consistent heating throughout your property.
If you're worried about paying for your heater or furnace repairs, call us to learn about our financing options.
How a Malfunctioning Heater Can Affect Your House
When your heater malfunctions, it can have numerous impacts on your house. These can include:
Reduced comfort levels as your house can be chillier than usual.
Risk of your family becoming sick, depending on what's wrong with your unit.
Lower indoor air quality.
An increased risk of a fire.
Increased monthly utility bills.