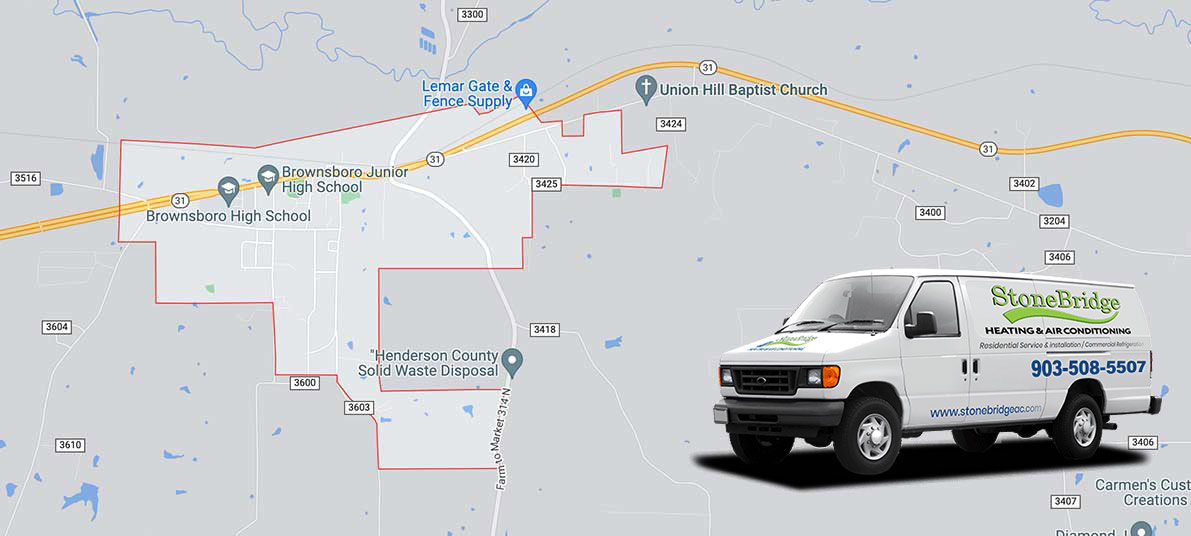 If adding more layers of clothing is your solution to winter's chilly temperatures, there is an easier solution. Have your heater or furnace repaired or replaced by a professional to restore comfort to your house. Call StoneBridge Heating & Air Conditioning for services in Brownsboro, TX. We use the latest technology and guarantee to arrive on time.
Curious why your Brownsboro neighbors call us when they need heating services? Read our testimonials to find out.
We provide complete heating services to Brownsboro, including:
Heater Repair
Heater Installation
Smart Home Thermostats
Heat Pump Services
Furnace Repair
Furnace Installation
Filter Replacement
Radiant Heating
Commercial HVAC
Common Furnace Problems
When your furnace malfunctions, it could be due to one of these common furnace problems:
Lack of maintenance: Failing to schedule regular maintenance on your unit can lead to a number of issues with your system.
Dirty or clogged filters: Filters can accumulate dust, dirt, and other debris that can cause your system to malfunction and lead to poor indoor air quality. Replacing your filters as required will lessen the strain on your unit.
Mechanical wear and tear: As your system ages it will start to develop more frequent issues and begin to lose efficiency. When this happens it is usually more cost-effective to have the system replaced than repair it.
Malfunctioning thermostat: If the temperature in your home or commercial property does not correlate with the setting on your thermostat, a service appointment will be needed to determine the cause of the issue.
Inadequate airflow: Disrupted air flow can cause your unit to overheat.
Carbon monoxide leak: Cracks in your unit can cause carbon monoxide to leak out, creating a highly dangerous situation in your home or commercial property. If the pilot light on your unit has turned from blue to yellow, you notice an excessive amount of condensation on your windows, or start to feel sick in any way, evacuate your property immediately.
Benefits of Installing a New Heater
Installing a new heater in your house or building can result in many benefits. Some of the top advantages can include:
An energy-efficient unit, which can also result in lower utility bills.
Increased comfort as your unit can properly heat your property.
Better indoor air quality.
Peace of mind that your system is unlikely to need repairs in the near future.
Even heating throughout your property.
Are heating repairs not in your budget right now? We understand. Contact us to learn about our financing options.
How To Make Your Furnace More Energy-efficient
Keeping your house warm all winter can cause your utility bills to increase. Fortunately, there are ways you can reduce these costs by making your system more energy-efficient. This can include:
Installing a programmable thermostat.
Making sure your air ducts are in good working condition.
Ensuring that your property is well insulated.
Scheduling regular maintenance visits.
Changing the filter regularly.
Letting sunlight in.