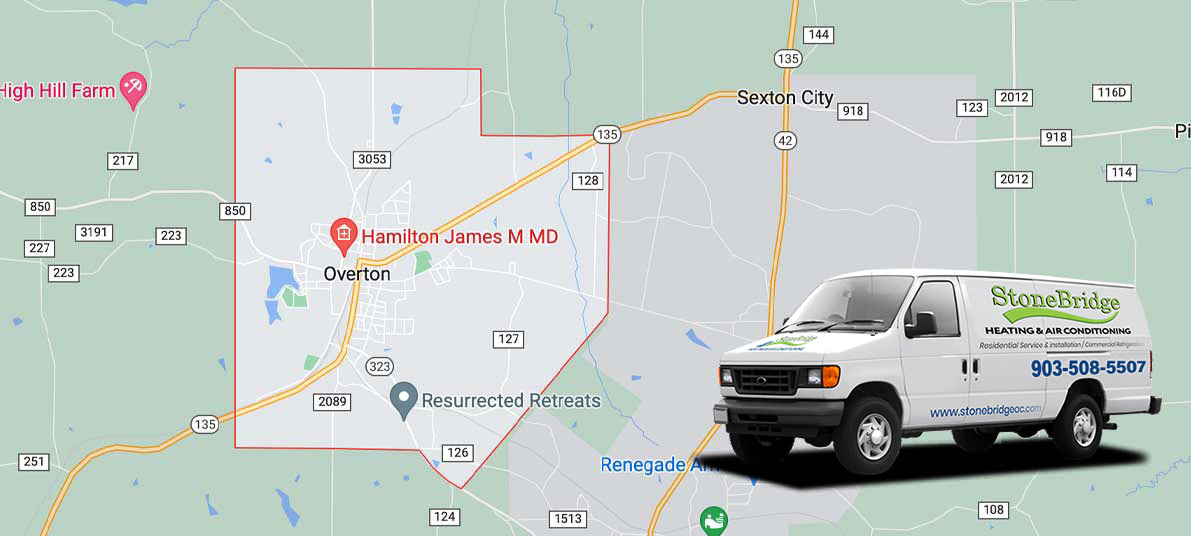 Is your air conditioner struggling to cool your house, or are your utility bills increasing? You need a professional to inspect your unit. Call StoneBridge Heating & Air Conditioning to schedule an appointment with our expert technicians in Overton, TX. When you call us, we will provide straightforward pricing and guarantee to arrive on time.
Why should we be your first call when you need air conditioning repairs? Read our testimonials to find out.
We provide complete cooling services to Overton, including:
Air Conditioning Repair
Air Conditioning Installation
AC Refrigerant Leak Repair
Air Handler Services
Evaporator Coil Services
Filter Replacement
Commercial HVAC
What To Expect During AC Tune-up
Our experts recommend scheduling routine maintenance on your air conditioner at least once a year. During this tune-up, you can expect a technician to:
Make sure that your system has the correct amount of refrigerant.
Check for refrigerant leaks.
Inspect your air ducts for excessive debris and potential leaks.
Make sure that the proper amount of air is flowing through your evaporator coil, and examine the coil to determine if there are any other issues.
Verify the correct electric control sequence and ensure that cooling and heating sequences are not operating at the same time.
Inspect electric terminals and apply a non-conductive coating if needed.
Oil the motors, examine the belts, and inspect all other working components.
Check the thermostat to determine if it is controlling your indoor climate properly.
When To Replace Your Air Conditioner
It's crucial that you don't wait until your air conditioner completely malfunctions before replacing it. Doing this can leave you sweating out a hot Texas summer until you're able to schedule installation services. Instead, schedule a replacement as soon as you notice the following symptoms:
Your air conditioner is more than 15 years old.
Your system is losing efficiency – resulting in higher utility bills.
Your property is no longer reaching a desirable temperature.
Your unit needs multiple repairs.
Your system needs a major repair, such as a new motor or compressor.
Your unit is leaking.
You hear strange sounds coming from the system – which could signal an issue with the motor.
You notice cold air is coming out of the unit but it is not blowing as strongly as it should.
Contact us to learn about our financing options for your next cooling services.
Signs You Need to Recharge Your Refrigerant
Without the proper amounts of refrigerant, your air conditioner cannot work properly. It's important to ensure you have your freon recharged by a professional when it gets low. Below are symptoms that can indicate you need to add more freon to your system:
The AC works normally but the air that's being pumped out doesn't feel as cold as it should.
Your system does not cool your house to the desired setting on the thermostat.
Your system blows out warm or room temperature air.
While our experts at StoneBridge Heating & Air Conditioning are checking your refrigerant levels, they will also look for any leaks in your system.

Local Reviews
for Overton, TX
---
Michael K.
Turn off water at meter run new pex pipe up into attic from outside run hot and cold water through the house to every fixture including bathrooms kitchen to water heater and washing machine cut holes at all angle stops will put up access panel where it can be placed c woods is not responsible for any damages to sheet rock customer will be responsible for getting sheet rock patched back turn water on and test after work is completed water is on meter is not spinning tested all fixtures everything working properly at this time.
Near

S Sabine St,

Overton

,

TX

75684
Daniel E.
Customer has an all electric air handler producing heat to the home however I found that he has a bad blower motor. I the customer approval I went ahead and replaced blower motor from truck stock. After replacing blower motor I teasted system and it is not working properly.
Near

Memory Dr,

Overton

,

TX

75684
Ray A.
Commode supply line is leaking from top plastic connection Facilitating replacement Tested no leaks
Near

Co Rd 109D,

Overton

,

TX

75684
Ray A.
Tech will give a quote to replace the hot and cold water lines in the attic with Insulation tech will have to tie onto one shower underneath house due to it being on the outside wall. At every penetration tape will have to cut the wall to bring the water lines out of the wall to make To make tie-ins. Seawoods isn't responsible for putting all walls back. Tech will install whole house water filtration system with a new tankless water heater install. Tech will give a quote to replace main yard line buy digging a trench from the meter to the house tech will have to cross the drive way Tech will do a rough back fill after replacement. C woods isn't responsible for any underground utilities and sprinkler lines. Tech replaced all the water lines under the house and insulated. Tech tied to turn on the water to test lines and water started to leak out some of the old pipes tech has replaced tech found the tee on the main line next to the house. Tech caped off the line and retested and the wat
Near

Humble Rd,

Overton

,

TX

75684
Lucas B.
Tech will give a quote to find the hot water leak under the house tech did go under the house and can not find the leak and will need a tunnel crew customer decided to go with the repipe.
Near

Humble Rd,

Overton

,

TX

75684