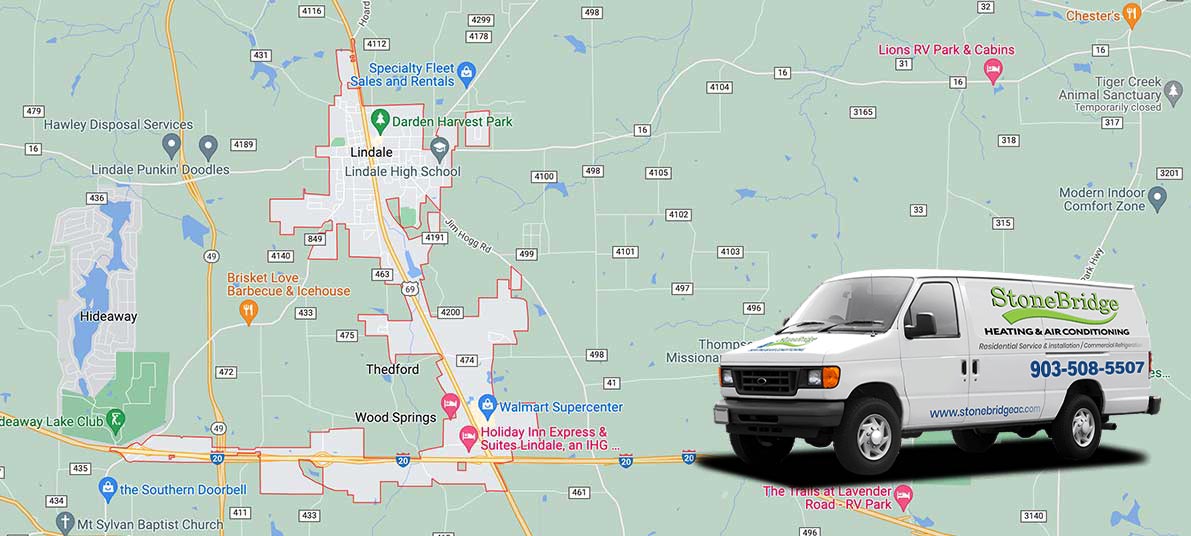 Coping with heat and humidity outdoors all summer can be hard enough. But you don't want to endure uncomfortable temperatures in your house, too.  If your AC unit is unable to properly cool your house, call StoneBridge Heating & Air Conditioning for services in Lindale, TX. We only send trustworthy technicians to get the job done.
We love to hear from our customers. Read our testimonials to see what they think of our services.
We provide complete cooling services to Lindale, including:
Commercial HVAC
Air Conditioning Repair
Air Conditioning Installation
Evaporator Coil Services
AC Refrigerant Leak Repair
Filter Replacement
Air Handler Services
Signs You Need To Replace Your Air Conditioner
Is it time to replace your aging, inefficient air conditioner? Some symptoms that can indicate you need to install a new system include:
If your air conditioner is more than 15 years old.
If your unit is losing efficiency or your utility bills are increasing.
If your property is no longer reaching a desirable temperature.
If your unit needs multiple repairs.
If your system needs a major repair, such as a new motor or compressor.
If your unit is leaking.
If you hear strange sounds that could indicate an issue with your motor.
If cold air is coming out of the unit but it is not blowing as strongly as it should.
Common AC Issues
From time to time, your air conditioner will require professional repairs. Some common problems you might experience are:
The unit is not producing cold air, even when the thermostat is turned to the lowest setting.
Air is not flowing through your vents properly, causing your unit to overwork and leading to higher utility bills.
If some sections of your property are warmer than others it could be caused by a malfunctioning thermostat.
If there is moisture leaking from your system. This can indicate that the drain tube is blocked or broken. Refrigerant can also leak, which can lead to a number of health problems, so it's important to have a professional inspect the problem.
Don't wait until payday to have your air conditioner repaired. Ask us about our financing options!
Why Air Conditioner Maintenance Is Important
Our experts recommend having your air conditioner serviced by a professional at least once a year. Performing routine maintenance allows your unit to:
Keep running efficiently and economically.
Operate for less money.
Improve your indoor air quality.
Identify minor issues before they become larger.
Keep your property and loved ones safe.