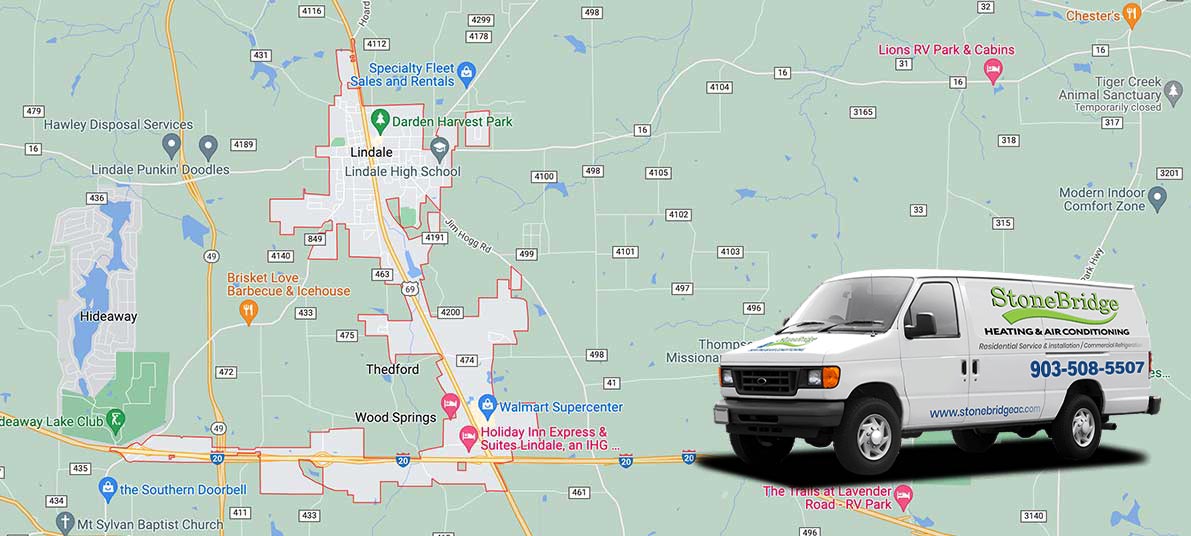 Coping with heat and humidity outdoors all summer can be hard enough. But you don't want to endure uncomfortable temperatures in your house, too.  If your AC unit is unable to properly cool your house, call StoneBridge Heating & Air Conditioning for services in Lindale, TX. We only send trustworthy technicians to get the job done.
We love to hear from our customers. Read our testimonials to see what they think of our services.
We provide complete cooling services to Lindale, including:
Commercial HVAC
Air Conditioning Repair
Air Conditioning Installation
Evaporator Coil Services
AC Refrigerant Leak Repair
Filter Replacement
Air Handler Services
Signs You Need To Replace Your Air Conditioner
Is it time to replace your aging, inefficient air conditioner? Some symptoms that can indicate you need to install a new system include:
If your air conditioner is more than 15 years old.
If your unit is losing efficiency or your utility bills are increasing.
If your property is no longer reaching a desirable temperature.
If your unit needs multiple repairs.
If your system needs a major repair, such as a new motor or compressor.
If your unit is leaking.
If you hear strange sounds that could indicate an issue with your motor.
If cold air is coming out of the unit but it is not blowing as strongly as it should.
Common AC Issues
From time to time, your air conditioner will require professional repairs. Some common problems you might experience are:
The unit is not producing cold air, even when the thermostat is turned to the lowest setting.
Air is not flowing through your vents properly, causing your unit to overwork and leading to higher utility bills.
If some sections of your property are warmer than others it could be caused by a malfunctioning thermostat.
If there is moisture leaking from your system. This can indicate that the drain tube is blocked or broken. Refrigerant can also leak, which can lead to a number of health problems, so it's important to have a professional inspect the problem.
Don't wait until payday to have your air conditioner repaired. Ask us about our financing options!
Why Air Conditioner Maintenance Is Important
Our experts recommend having your air conditioner serviced by a professional at least once a year. Performing routine maintenance allows your unit to:
Keep running efficiently and economically.
Operate for less money.
Improve your indoor air quality.
Identify minor issues before they become larger.
Keep your property and loved ones safe.
Local Reviews
for Lindale, TX
Powered by Nearby Now
---
Aaron H.
Found shorted compressor on 1996 3.5 ton down flow mobile home r22 system recommend replacing system customer would like a quote
Near
FM 2710,

Lindale

,

TX

75771
Daniel L.
Repair Leak Exposed 1/2 To 1-IN Copper Water Pipe Remove Leaking Pipe/Fitting, Install New Copper Pipe/Fitting - customer was hanging sheetrock and drilled a screw into the copper pipe in the stud space. Removed the damaged 1/2 copper pipe by sweating it out of a tee fitting one the top end and cutting the damaged lower end out. Sweated in new 1/2 street 90 elbow and 1/2 coupling and 1/2 copper pipe to repair the damaged copper pipe. Plumbing After Hours Premium charge for all after 7:00pm emergency calls
Near
E North St,

Lindale

,

TX

75771
Daniel L.
Quality Kitchen Sink Faucet - Oil Rubbed Bronze - special pick up from coburns supply. - remove old faucet and install new oil rubbed bronze kitchen faucet. Called to the home because of a leak under the kitchen sink area. Upon arrival to the home and inspection of the kitchen faucet and sink area the water leak was found to be coming from the kitchen faucet sprayer. Just the sprayer could not be replaced on the model of faucet there. New faucet installed. The area is now leak free. - not a mold inspector. As a plumber that did work under the kitchen sink I saw No Signs of Mold.
Near
Heritage Ct,

Lindale

,

TX

75771
Jeremy G.
Slow drain at kitchen sink Disposal side of kitchen sink backs up dishwasher is also affected because it drains into disposal. Other side of kitchen sink works properly with no issues. Tech found disposal is no longer working and due to no usage food particals had clogged the drain and caused motor to lock up. Disposal Unjammed and Drain cleaned so sink is functional. (Ran hot water for 10-15 mins to test) estimate given to replace disposal. Customer decided to hold off on replacement they don't use disposal that often.
Near
Robyn,

Lindale

,

TX

75771
kurt.richard8759@gmail.com
Customer poked hole in evaporator coil. Coil is aluminum not repairable need to quote and order evaporator coil
Near
County Rd 4104,

Lindale

,

TX

75771