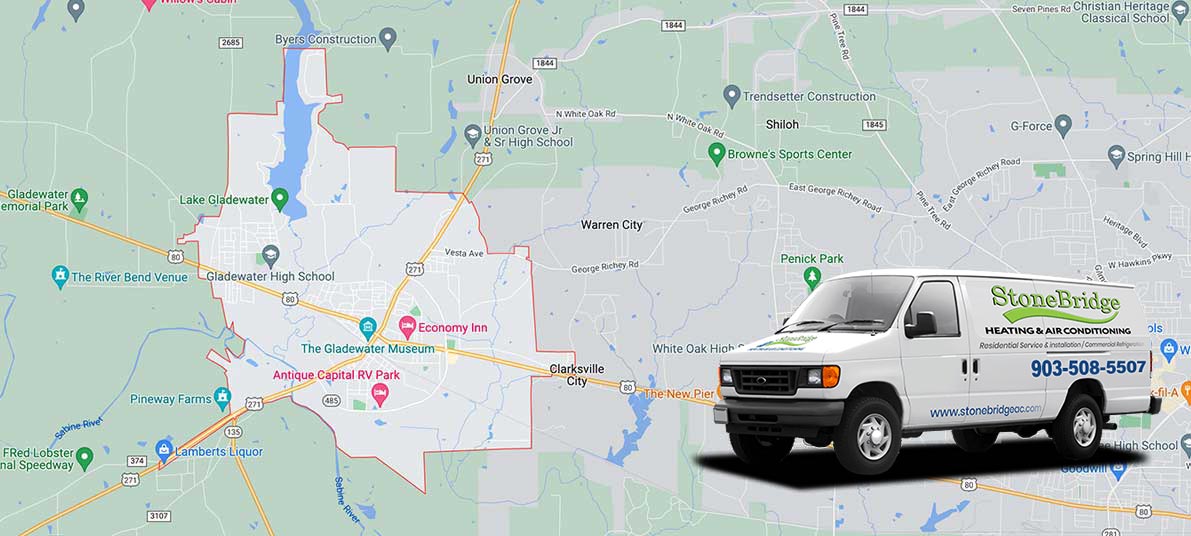 Don't get stuck sweating out the summer months in a hot house if your air conditioner fails. Instead, make sure your system is ready for the weather by scheduling AC repairs, maintenance, and installations. Call StoneBridge Heating & Air Conditioning for services in Gladewater, TX. When you call us, we offer straightforward pricing so there are no surprises later.
Read our testimonials to see why your Gladewater neighbors call us for air conditioning services.
We provide complete cooling services to Gladewater, including:
Commercial HVAC
Filter Replacement
Air Handler Services
Air Conditioning Repair
Air Conditioning Installation
Evaporator Coil Services
AC Refrigerant Leak Repair
Benefits of Installing a New Air Conditioner
We understand that it can be a difficult decision to replace your old air conditioner with a new unit. However, once you make the choice, you can start experiencing the benefits a new system can provide to your household. These advantages can include:
A more energy-efficient unit, which can result in lower utility bills.
Improved indoor climate control.
Better indoor air quality.
A longer shelf life and assurances that you won't need to repair or replace your system in the near future.
New technology and features.
What To Expect During AC Maintenance Appointments
When you schedule a tune-up on your air conditioner, you can expect our technicians to perform the following tasks:
Make sure that your system has the correct amount of refrigerant, and check for any leaks.
Inspect your air ducts for excessive debris and potential leaks.
Make sure that the proper amount of air is flowing through your evaporator coil. They will also examine the coil to determine if there are any other issues.
Verify the correct electric control sequence and ensure that cooling and heating sequences are not operating at the same time.
Inspect electric terminals and apply a non-conductive coating if needed.
Apply oil to the motors, as needed.
Examine belts, and inspect all other working components.
Check the thermostat to determine if it is controlling your indoor climate properly.
Do you need your AC unit repaired, but it's not in your budget right now? Contact us to learn about our financing options.
Signs Your Air Conditioner Needs Repairs
To keep your house cool all summer, it's essential to identify issues with your unit as soon as possible. Some signs to watch for that can indicate your unit needs repairs include:
Your property is no longer reaching its desired temperature, or there is a complete absence of cold air.
There is water is pooling under your ducts or near the drain tube.
Your property is not cooling evenly, leaving hot and cool spots throughout your home.
Your monthly utility bills increase.
Your subscription is not active
Please visit the admin site to re-activate your subscription