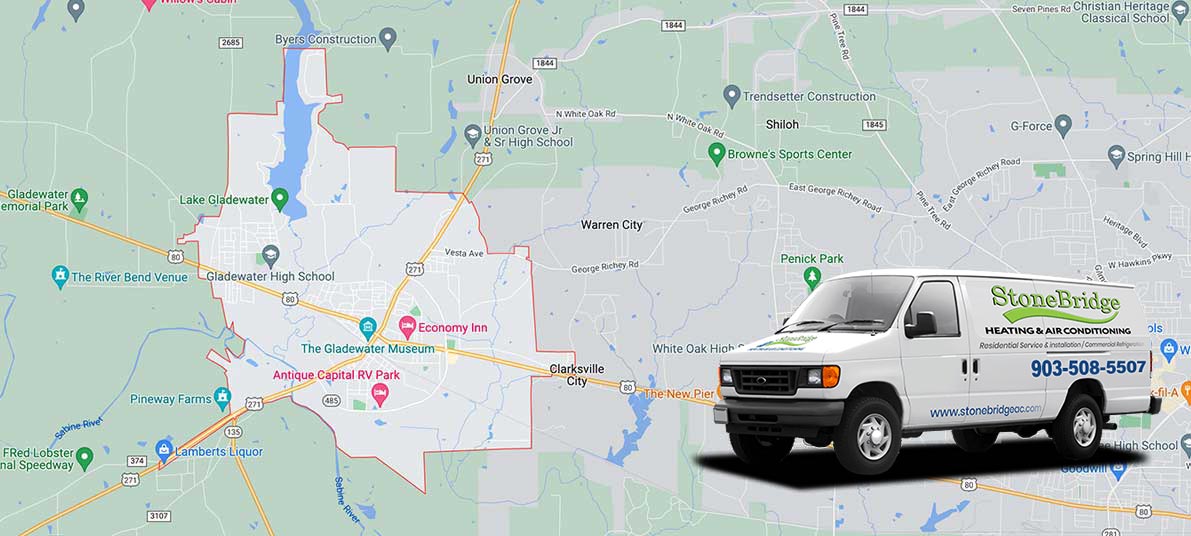 Don't get stuck sweating out the summer months in a hot house if your air conditioner fails. Instead, make sure your system is ready for the weather by scheduling AC repairs, maintenance, and installations. Call StoneBridge Heating & Air Conditioning for services in Gladewater, TX. When you call us, we offer straightforward pricing so there are no surprises later.
Read our testimonials to see why your Gladewater neighbors call us for air conditioning services.
We provide complete cooling services to Gladewater, including:
Commercial HVAC
Filter Replacement
Air Handler Services
Air Conditioning Repair
Air Conditioning Installation
Evaporator Coil Services
AC Refrigerant Leak Repair
Benefits of Installing a New Air Conditioner
We understand that it can be a difficult decision to replace your old air conditioner with a new unit. However, once you make the choice, you can start experiencing the benefits a new system can provide to your household. These advantages can include:
A more energy-efficient unit, which can result in lower utility bills.
Improved indoor climate control.
Better indoor air quality.
A longer shelf life and assurances that you won't need to repair or replace your system in the near future.
New technology and features.
What To Expect During AC Maintenance Appointments
When you schedule a tune-up on your air conditioner, you can expect our technicians to perform the following tasks:
Make sure that your system has the correct amount of refrigerant, and check for any leaks.
Inspect your air ducts for excessive debris and potential leaks.
Make sure that the proper amount of air is flowing through your evaporator coil. They will also examine the coil to determine if there are any other issues.
Verify the correct electric control sequence and ensure that cooling and heating sequences are not operating at the same time.
Inspect electric terminals and apply a non-conductive coating if needed.
Apply oil to the motors, as needed.
Examine belts, and inspect all other working components.
Check the thermostat to determine if it is controlling your indoor climate properly.
Do you need your AC unit repaired, but it's not in your budget right now? Contact us to learn about our financing options.
Signs Your Air Conditioner Needs Repairs
To keep your house cool all summer, it's essential to identify issues with your unit as soon as possible. Some signs to watch for that can indicate your unit needs repairs include:
Your property is no longer reaching its desired temperature, or there is a complete absence of cold air.
There is water is pooling under your ducts or near the drain tube.
Your property is not cooling evenly, leaving hot and cool spots throughout your home.
Your monthly utility bills increase.
Local Reviews
for Gladewater, TX
---
Michael K.
#NO Shut off water unsolder old hose bib and solder on a new hose bib. The hose bib was sticking out from the wall before work was performed i informed the customer that we could chip away around the pipe so we could get into pushed in more but she refused. There will be additional charge if we need to come back to secure the hose bib to the wall and push it in more
Near

FM2685,

Gladewater

,

TX

75647
Lucas B.
Upon arrival tech saw that the tankless is throwing a error code of 52. This water heater is 20 years old and don't make the parts for this water heater any more tech will give a quote to install a new one. Tech turned off water, then cut out old tankless water heater. Then tech installed new water heater box, after installation of box tankless water heater was installed. Tech tied in water lines and gas lines to new tankless water heater. Tech turned on water and gas and check for leaks none were present. Tech tested tankless water heater to see if it would run smoothly everything was in proper working order. Made sure to insulate hot and cold water lines to help prevent from freezing. Everything was good to go at this time tech cleaned up all materials in working area.
Near

N Lake Dr,

Gladewater

,

TX

75647
Gabriel A.
Mail invoice. Found 1999 3 ton R-22 trane heat pump system low on refrigerant and the compressor is not operating. The compressor is also losing oil. The customer will speak with our field supervisor on Wednesday about system replacement options.
Near

FM 1252 W,

Gladewater

,

TX

75647
Lucas B.
Upon arrival tech saw that their is a leak at the kitchen sink tech best Educated guess that is in the wall and tech will have to cut the wall out expose the leak if is not coming out of the slab. If this leak is in the slab this quote no good only be charged for exposing the leak.<br> Tech cut the wall and the water is coming out of the slab on the hot side under the sink tech can see their is Multiple leaks. Tech tried to isolate the hot water side but the valve on top of water heater is froze open and cannot turn off. Tech recomends whole house repipe. Or locate each leak. Tech will give a quote for a whole house repipe. Tech all so gave a quote to clear out some lines
Near

Cedar St,

Gladewater

,

TX

75647
Ray A.
Pop up assembly is leaking facilitating replacement
Near

Phillips Springs Rd,

Gladewater

,

TX

75647