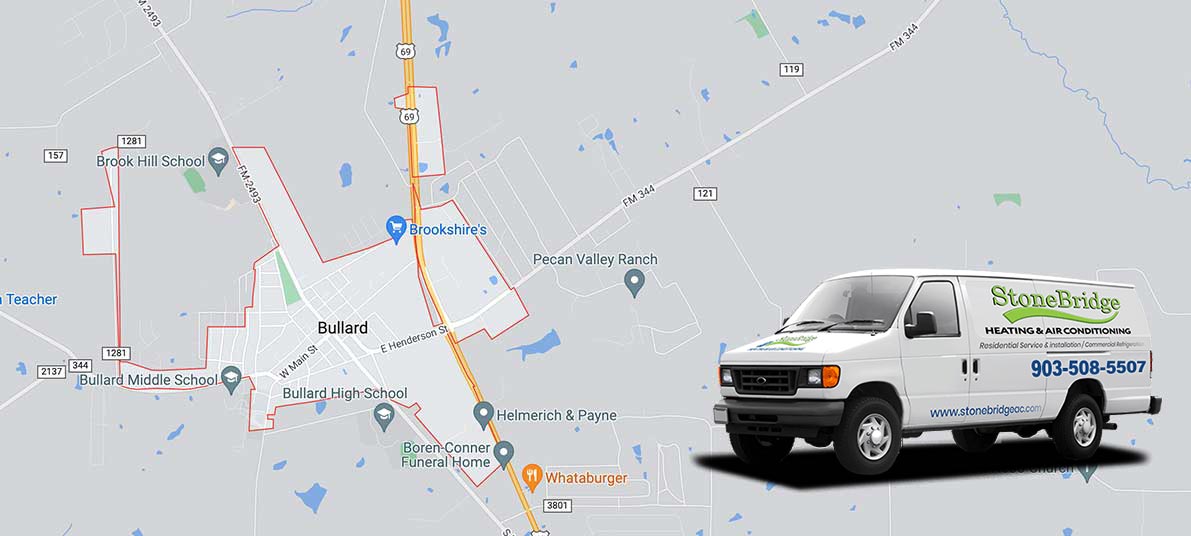 Are you always cold in your house, even with your heating system running? It can signal your unit needs to be repaired or replaced. When you need your heater or furnace serviced, call StoneBridge Heating & Air Conditioning for appointments in Bullard, TX. We guarantee satisfaction with every job we take.
We value our customers' feedback. Read our testimonials to see what they think of our services.
We provide complete heating services to Bullard, including:
Heater Repair
Heater Installation
Furnace Repair
Furnace Installation
Filter Replacement
Smart Home Thermostats
Heat Pump Services
Radiant Heating
Commercial HVAC
Signs Your Furnace Needs To Be Replaced
Is it time to finally stop repairing your furnace and replace it with a new model? Some signs that can indicate you need to install a new unit include:
If your unit is nearing the end of its lifespan.
Loss of efficiency. If your system can no longer effectively heat your house.
If your system has a crack it can lead to a dangerous situation, like a carbon monoxide leak.
Rise in monthly utility bills. If your utility bills are increasing without a change in usage.
Multiple repairs. If your unit needs several repairs, or a large, costly fix.
Common Heater Problems
No one likes to deal with heater issues – especially in the middle of winter. However, occasionally your system might experience issues that need to be repaired. Some common issues can include:
Uneven heating: If you have hot and cold spots throughout your home, it could indicate that your system is failing.
Shuts down: If your system turns on and off frequently, it could be due to faulty wiring, a failing pilot light, or a malfunctioning thermostat.
Long time to heat: If your system takes a long time to heat up, and even cranking up the thermostat to higher levels doesn't appear to be doing too much to accelerate the heating process, it could mean you have leaky air ducts, a damaged fan motor, or there's an issue with the belts and bearings.
Don't stress about paying for your heating system repairs or replacements. Contact us to learn about our financing options.
What To Expect During Heater Tune-up
Our experts recommend scheduling a tune-up on your heater at least once a year. During these routine services you can expect a technician to perform the following tasks:
Shut off power to the unit.
Check the inner components in the unit to ensure they are operating correctly.
Replace worn-out parts or belts before they completely fail later.