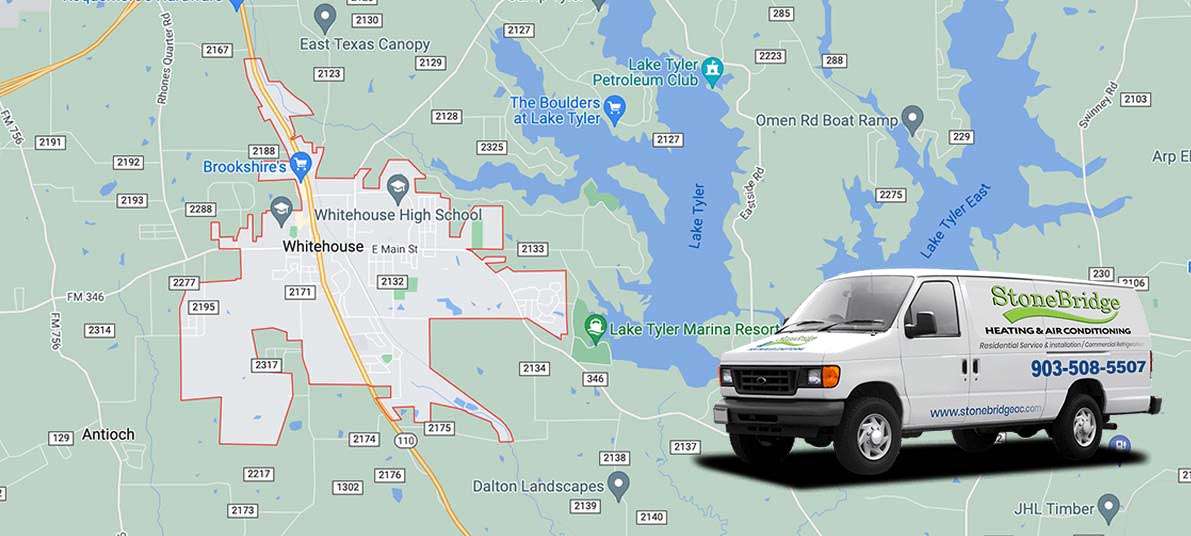 Before the summer heat and humidity arrives, make sure your air conditioner is up to the task of properly cooling your house. For AC repairs, replacements, and tune-ups, call StoneBridge Heating & Air Conditioning. Our trustworthy technicians guarantee to arrive on time.
We take pride in our customers' reviews! Read our testimonials to see what our clients in Whitehouse think of our work.
We provide complete cooling services to Whitehouse, including:
Commercial HVAC
Air Conditioning Repair
Air Conditioning Installation
Filter Replacement
Air Handler Services
Evaporator Coil Services
AC Refrigerant Leak Repair
Signs Your Air Conditioner Needs Repairs
To keep your house cool and comfortable all summer, it's essential to watch for signs that your air conditioner needs repairs. If you notice the following symptoms, call for professional services:
Your house isn't cooling to the temperature set on the thermostat.
There is water pooling under your ducts or near the drain tube.
Your unit isn't cooling your property evenly, leaving hot and cold spots.
You notice an increase in your monthly cooling costs.
Your unit is becoming less efficient and requires more frequent repairs. If this happens, consult a professional to determine if it can be more cost-effective to replace the system rather than repair it.
Why AC Maintenance Is Important
Our experts recommend scheduling annual maintenance on your AC unit at least once a year. Performing these tune-ups allows your system to:
Run efficiently and economically.
Operate for less money.
Provide maximum climate control.
Ensure proper indoor air quality.
Keep your house and your family safe.
Catch minor issues before they turn into major problems.
We get that emergency air conditioning repairs might not be in your budget. Ask us about our financing options!
Benefits of Regular AC Filter Replacement
When is the last time you replaced your AC filter? If you can't remember, it's been too long. Some benefits to changing your filters regularly can include:
Improved indoor air quality, which can keep your family healthier, especially those with allergy and asthma symptoms.
Lower utility bills as the unit can run more efficiently and use less energy.
Increased lifespan of the unit as it endures less wear and tear.
Less dust around your home.
Local Reviews
for Whitehouse, TX
---
Lucas B.
Upon arrival tech saw that the flex line on the hot side is leaking not the disposal. Tech will give a quote to install a oil rub bronze faucet we provide. Delta. Tech started to pull faucet and tech had a hard time getting it apart tech had to cut the bottom nut and cut the top of the faucet out to get it. Then tech installed the faucet and tested all good to to at this time. No leaks at this time.
Near

Farm to Market Rd 346,

Whitehouse

,

TX

75791
Lucas B.
Upon arrival customer showed the tech the toilet and the flapper is aged and it is best if we rebuild the toilet tank with a fill valve and flapper. Tech turned off the water to the toilet and replace the flex line fill valve and flapper. Tech tested and dropped a die tablet in and waited 5 min and still clear so tech flushed all the die out of the tank and all good to go at this time.
Near

Amanda Ct,

Whitehouse

,

TX

75791
Michael K.
Shut off water and gas remove old noritz tankless water heater with built in recirculating pump and install new rinnai rur199 tankless water heater with built in recirculating pump after install is complete turn water and gas back on and test all work after turning on until called tech support to set up dedicated recirculating return line and everything is working properly at this time with no error codes or leaks, set temperature to 120 tested at the faucets and we are getting 119 to 120 reading at faucets
Near

FM2964,

Whitehouse

,

TX

75791
Lucas B.
Tech will give a quote to cable toilet to attempt to clear clog, as well replace the disposal in the kitchen. Tech ran cable through toilet got it cleared tech pulled back solids. then tech replaced the disposal tech tested all and all if flowing good and working properly at this time.
Near

Rosebrook Cir,

Whitehouse

,

TX

75791
Chad H.
Run sewer cable thru outside clean out to attempt to unstop sewer line
Near

1209 East Main Street,

Whitehouse

,

TX

75791