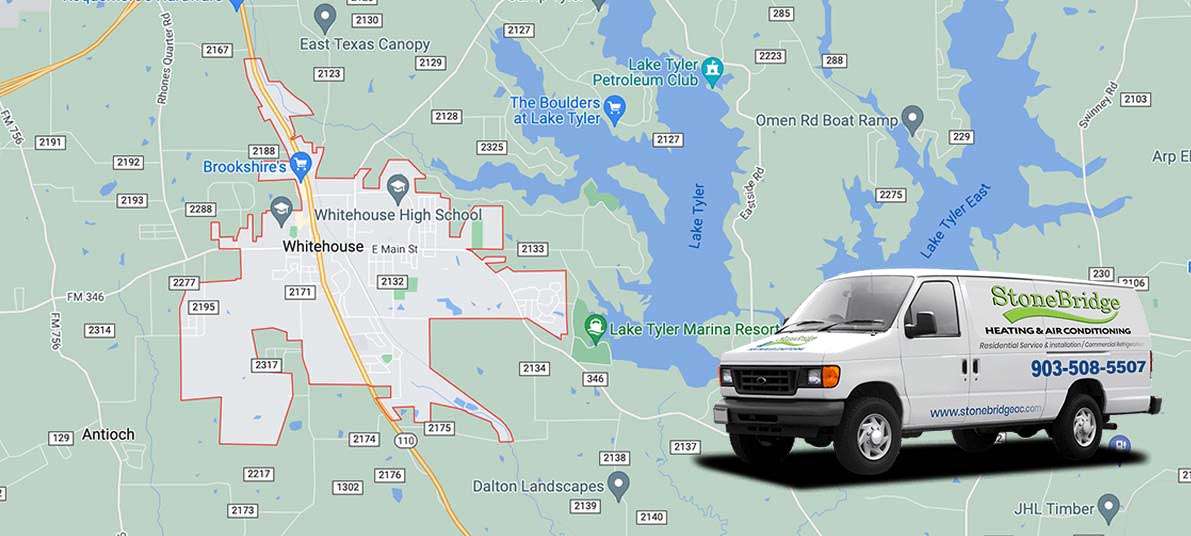 Make sure your heating system is up to the task of keeping your house comfortable all year. When you need heater repairs or a furnace replacement, call StoneBridge Heating & Air Conditioning for services in Whitehouse, TX. When you call us, we will only send trustworthy technicians who have been drug tested and background checked.
Trust your furnace repairs to the experts. Read our testimonials to find out why you should call us for appointments in Whitehouse.
We provide complete heating services to Whitehouse, including:
Commercial HVAC
Furnace Repair
Furnace Installation
Heater Repair
Heater Installation
Heat Pump Services
Radiant Heating
Filter Replacement
Smart Home Thermostats
What To Expect During Routine Heater Maintenance
Our trusted technicians recommend having your heating system tuned up at least once a year. During these routine services, you can expect the technician to perform the following tasks:
Shut off power to the unit.
Check to see how the inner components of the unit are operating.
Replace worn-out parts or belts before they completely malfunction. Our technicians will consult with you before installing any new parts.
Signs Your Furnace Needs To Be Replaced
Is it finally time to replace your aging furnace? Some signs that can indicate you need to install a new system include:
If your unit is nearing the end of its life expectancy.
Loss of efficiency. If your unit is no longer operating efficiently.
If your unit has a crack, which can lead to a dangerous situation for your family.
Increased utility bills. If your monthly bills start to increase without a change in usage.
Multiple repairs. If your unit needs several repairs it may be more cost-effective to replace it rather than repairing it.
Are unexpected heating repairs not in your budget right now? We understand. Call us to learn about our financing options.
How To Make Your Furnace More Energy-efficient
After keeping your house cool all summer, you might be looking forward to getting a break from utility bills in the winter months. You can reduce your expenses by using these tips to make your system more energy-efficient:
Install a programmable thermostat.
Make sure your air ducts are in good working condition.
Ensure that your property is well insulated.
Schedule regular maintenance visits with a professional.
Change the filter regularly.
Let the sunlight in to add extra heat.