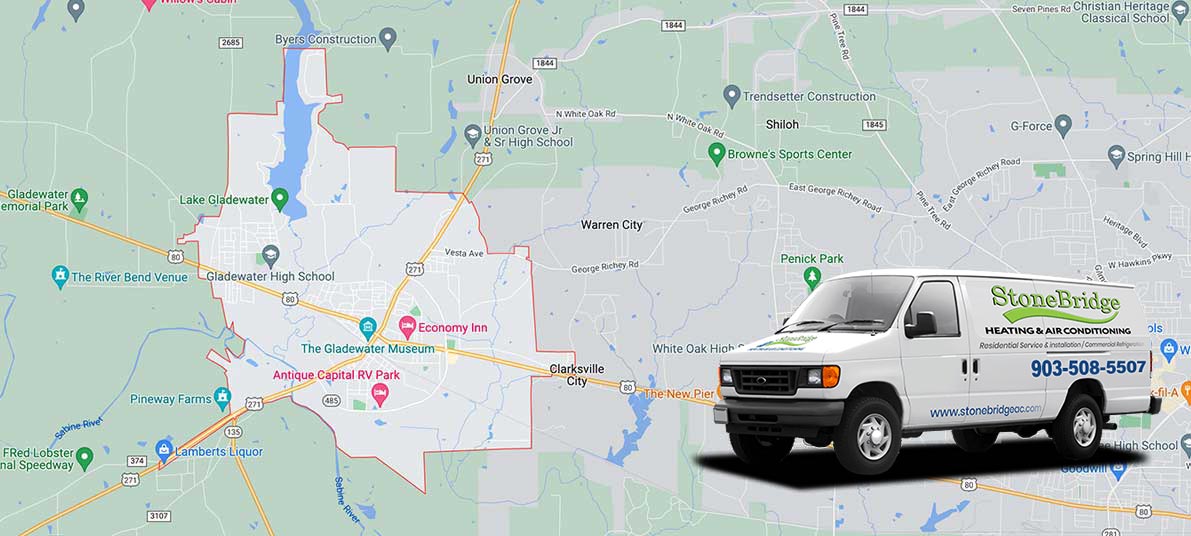 Don't get stuck in a cold house all winter. Make sure your heating system is working properly by scheduling furnace and heater maintenance and repairs on your system. Call StoneBridge Heating & Air Conditioning for services in Gladewater, TX. Our trustworthy technicians undergo ongoing training and guarantee to arrive on time.
We value our customers' feedback. Find out why they call us for heating services in Gladewater when you read our testimonials.
We provide complete heating services to Gladewater, including:
Commercial HVAC
Heater Repair
Heater Installation
Filter Replacement
Smart Home Thermostats
Furnace Repair
Furnace Installation
Heat Pump Services
Radiant Heating
What To Expect From a Routine Heater Maintenance Visit
Our experts recommend having your furnace tuned up at least once a year. During these routine services, you can expect a technician to:
Shut off power to the system.
Check the inner components to ensure they're working properly.
Discuss if you'd like to replace worn-out parts or belts during the inspection before they completely malfunction.
Signs Your Furnace Needs To Be Replaced
Is it time to install a new furnace to replace your aging unit? Some symptoms to watch for include:
If your unit is nearing the end of its lifespan.
Loss of efficiency. If your utility bills are rising and your unit is unable to properly heat your home.
If your system has cracks, which can lead to a carbon monoxide leak.
Multiple repairs. If your system needs several – or expensive – repairs.
Are furnace repairs not in your budget? You can still get the fixes you need. Call us to learn about our financing options.
Common Heater Problems
Unfortunately, from time to time your heater may require professional repairs. Some common issues your unit might experience include:
Uneven heating: This could indicate that your system is failing.
Shuts down: If your system shuts on and off frequently. This problem is often attributed to faulty wiring, a failing pilot light for gas-powered systems, or even a malfunctioning thermostat.
Long time to heat: If your system takes a long time to heat up, and even cranking up the thermostat to higher levels doesn't speed up the heating process. This problem can occur if there are leaky air ducts in your property, damaged fan motors, or a problem with the belts and bearings.