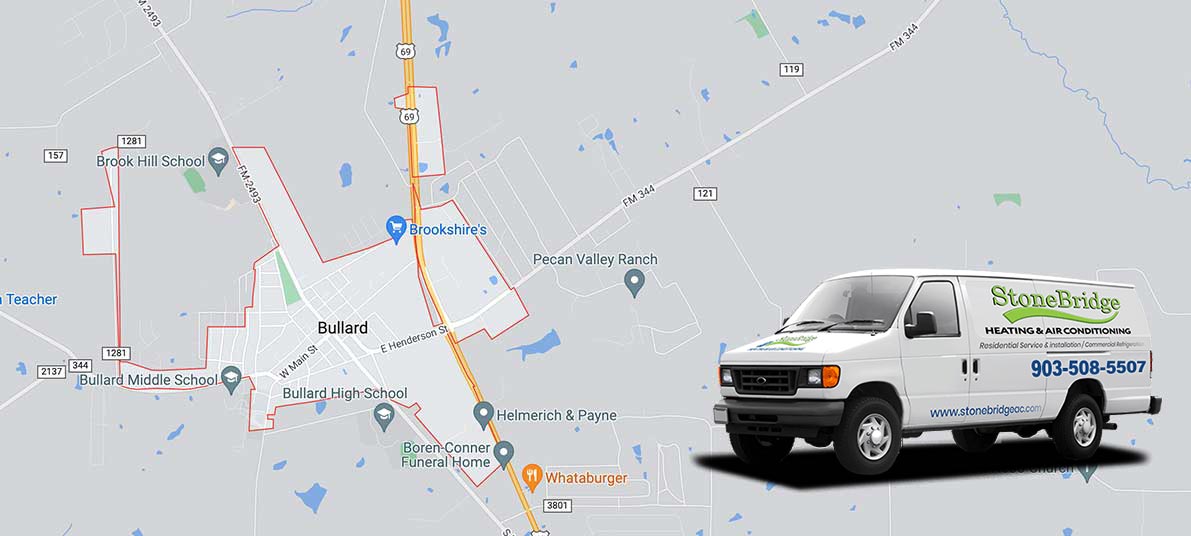 When your air conditioner malfunctions, or starts to struggle to properly cool your house, you need professional help quickly. For AC repairs and replacements, call StoneBridge Heating & Air Conditioning. When you call us, we will guarantee to arrive on time and provide straightforward pricing.
Read our testimonials to learn why you should call us when you need air conditioning repairs or replacements.
We provide complete cooling services to Bullard, including:
Air Conditioning Repair
Air Conditioning Installation
Filter Replacement
Air Handler Services
Evaporator Coil Services
AC Refrigerant Leak Repair
Commercial HVAC
Signs You Need To Replace Your Air Conditioner
Is it finally time to replace your aging air conditioner? Some symptoms to watch for include:
If your air conditioner is more than 15 years old.
If your unit is losing efficiency, resulting in higher utility bills.
If your property is no longer reaching a desirable temperature.
If your system needs multiple repairs.
If your unit needs a major repair, such as a new motor or compressor.
If your system is leaking.
If you hear strange sounds coming from your unit. It could be an issue with your motor.
If cold air is coming out of the unit but it is not blowing as strongly as it should.
Why AC Maintenance Is Important
It's crucial to have your air conditioner serviced by a professional at least once a year. Having tune-ups performed regularly benefit your unit by:
Keep it running efficiently and economically.
Cost less to operate and provide your property with maximum climate control during the hottest days of the year.
Ensure proper indoor air quality.
Keep your property and loved ones are safe.
Catch minor issues before they turn into major ones.
Contact us to learn about our financing options. We'll help you pay your bill and eliminate stress.
Common Issues That Cause Air Handlers to Breakdown
You need your air handler to function correctly to ensure your house cools to the correct temperature. If it malfunctions, it can be due to common issues like:
Clogged air filters
Cooling coils clogged by dirt and dust
Worn or faulty fan belts
Blower motor burn out