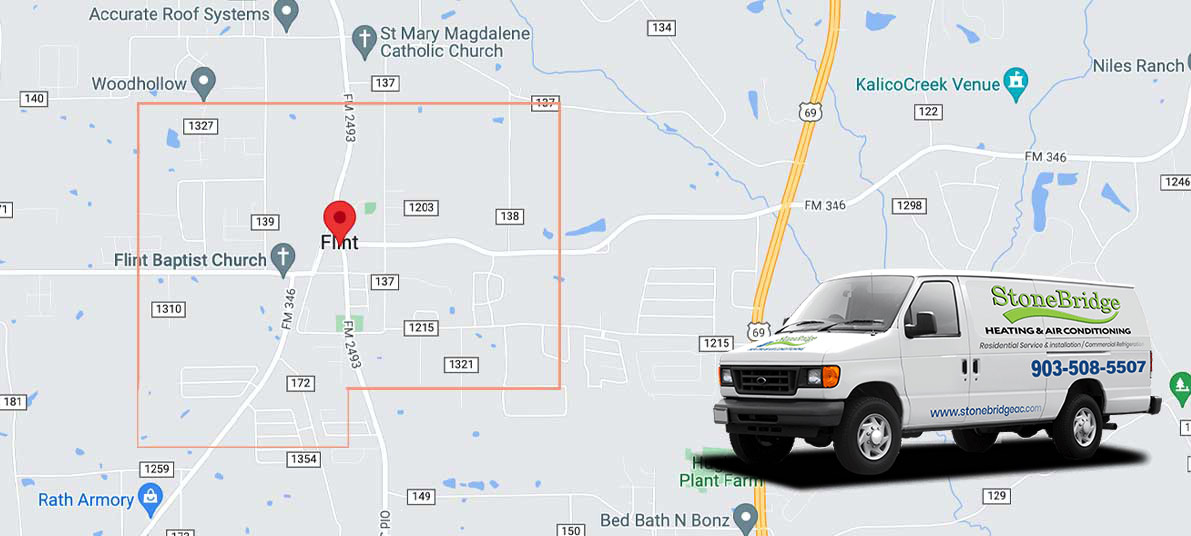 When your air conditioner malfunctions, it's important to schedule repairs with a respected service company as soon as possible. A trusted technician can diagnose and repair an issue quickly, while also determining if and when you need to replace a unit. Call StoneBridge Heating & Air Conditioning when you need services in Flint, TX. We offer 24-hour appointments to restore comfort to your house quickly.
We love to share the feedback we get from our customers. Read our testimonials to see what they have to say.
We provide complete cooling services to Flint, including:
Air Conditioning Repair
Air Conditioning Installation
Filter Replacement
Commercial HVAC
AC Refrigerant Leak Repair
Air Handler Services
Evaporator Coil Services
Advantages of Installing a New AC Unit
Is it time to finally stop repairing your aging air conditioner and replace it with a new unit? Some advantages of installing a new system include:
Increased energy efficiency. This can also result in savings on your utility bills.
Maximum indoor climate control to make sure your house is at an ideal temperature.
Improved indoor air quality to keep your household healthy.
Longer shelf life so you won't need to replace it for a while.
Signs Your Air Conditioner Needs Repairs
Your air conditioner needs to be repaired as soon as possible to avoid being left without a functioning cooling system. If you notice the following signs you should schedule professional repairs as soon as possible:
Your property is no longer reaching its desired temperature or there is a complete absence of cold air.
Water is pooling under your ducts or near the drain tube.
Your air conditioner is not cooling your property evenly, leaving hot and cold spots.
You see an increase in your monthly cooling costs.
Are air conditioning repairs or replacements not in your budget right now? Contact us to learn about our financing options.
4 Benefits of Timely Air Duct Services
If you suspect your air ducts are leaking or malfunctioning, it's important to schedule services with a professional. Some benefits of scheduling these quickly can include:
Improved indoor air quality.
Decreased allergy symptoms for those in your house.
Clean and healthy air.
Reduced energy costs.
Ability to detect minor issues before they become larger.