Three Tips to Help You Breathe Easier This Spring
Spring is finally here, and along with warmer weather comes the influx of seasonal allergies from flowers and tree pollen. Spring cleaning can include the air too. The air we breathe is full of invisible floating particles of dust, dander, pollen, and other allergens. It can be hard to control the outdoor climate, but homeowners can take steps to improve air quality and breathe easier indoors. These three tips for improving indoor air quality can help homeowners achieve cleaner air and help prevent symptoms of seasonal allergies.
Get More House Plants
Studies have shown that having a multitude of houseplants indoors can help purify the air. Plants create energy through photosynthesis, drawing carbon dioxide from the air and turning it into oxygen. Humans exhale carbon dioxide and inhale oxygen, so having plants around is great for easier breathing.
Having just one plant in the house does not make a difference in air quality, but having many houseplants will make an impact. Plants work as natural air purifiers, which is the perfect excuse to head to the store and invest in plants this spring.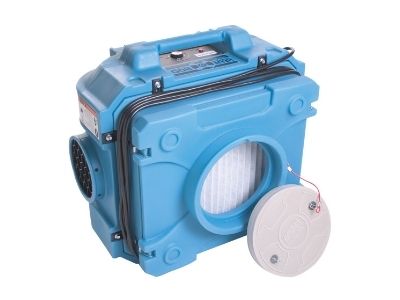 Air Purifiers and Air Filters
Houseplants can help a little bit to keep the air clean, but for homeowners who are looking for more effective solutions to improve indoor air quality, an air purifier or air scrubber may be the best option. Air purifiers circulate the air through a filtration system that filters out contaminants and particles in the air. Some air scrubbers use UV light to kill viruses and bacteria that could be airborne.
All HVAC systems use air filters to remove contaminants such as dust, hair, and dirt from the air before it gets sucked into the system's air intake. Some air filters are better than others at cleaning the air. The smaller particles are often the most dangerous, but many air filters only filter out larger airborne particles. Investing in high-quality air filters for the air conditioning unit and changing them out often will help to keep the air cleaner indoors.
AC Maintenance Is Important
It is recommended to service the home air conditioning unit bi-annually to keep the system working at optimal efficiency. During the AC maintenance appointment, the technician will clean out the inside of the unit and remove any contaminants like dust or grime that may be impacting air quality.
When the AC unit does its job properly, it distributes clean, cool air around the house. Doing AC maintenance helps to keep the unit working smoothly, keeps utility bills low, and improves indoor air quality. A dirty or malfunctioning air conditioning unit negatively impacts air quality.
About StoneBridge Heating & Air Conditioning
StoneBridge Heating & Air Conditioning has provided its neighbors in Tyler, TX, and Smith County with top-of-the-line service for over 20 years. They offer 24/7 emergency service, straightforward pricing, and on-time service. Call them today for indoor air quality services in Tyler, TX.
[press_release_images][/press_release_images]
[press_release_distributions id="108705″][/press_release_distributions]