Valuable Services From Heating and Cooling Experts
The whole point of Thanksgiving Day is to take a moment to be grateful. Sometimes it takes inspiration to start thinking of positive things, but after a bit of meditation, it can be easy to recognize all of the great things life offers.
This year, as temperatures drop, get a little help from heating and cooling experts to kick-start the feeling of gratefulness. These experts work all year long to ensure families have a safe and comfortable place to stay and safe air to breathe. Here are some specific reasons folks should be grateful for HVAC technicians this Thanksgiving.
Keeping the House Warm in the Winter
The Thanksgiving season is the perfect time for folks to reflect on their gratitude for HVAC contractors. Thanksgiving coincides with a dramatic seasonal shift that brings weather changes. With these weather changes comes frigid weather that can threaten the comfort and safety of the home. Without a working heater or furnace, families would have no choice but to be dangerously cold over the winter.
HVAC technicians deserve gratitude because they use their expertise to keep heaters working safely and efficiently when installing, repairing, and maintaining heating systems. Maintenance from a licensed professional bestows benefits like:
Reduced likelihood of mechanical problems over the winter

Lower monthly energy bills

Longer-lived heating equipment

Better comfort through the winter
Keeping the Home Cool in the Summer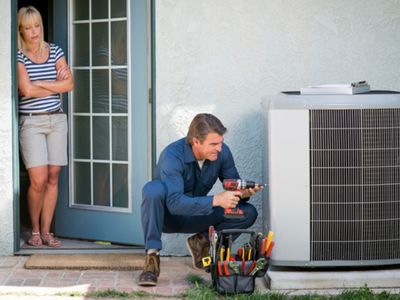 The second time of year that homeowners should be especially grateful for HVAC contractors is the summer. It's no secret that local summers are brutal, with temperatures routinely reaching dangerous levels. As summers get hotter, HVAC contractors' work will continue to be more and more important. The only way to beat the heat is with a functioning air conditioner ready for the season and HVAC technicians that know how to keep it running.
To keep the air conditioner running safely and efficiently during the summer, homeowners should trust professionals to do installations, repairs, and maintenance. Partnering with a reliable contractor means that homeowners are never left without help when their air conditioner fails. All it takes is one scare during the summer to truly appreciate the work that heating and cooling companies do.
Improving Indoor Air Quality
It's common knowledge that indoor air is typically more polluted than outdoor air. This is because indoor air never gets refreshed. It is just continually recycled by the HVAC system in a home. As it recirculates, it picks up dust, allergens, and pathogens that can harm the health of those who live in the house.
One of the most valuable services offered by HVAC contractors is to improve the indoor air quality in a home. They can do this by providing services like:
HVAC maintenance

Air filter changes

Installing a type of air cleaner

Installing a dehumidifier or humidifier

Air duct cleaning
Without these valuable services, indoor air pollution would significantly contribute to respiratory problems and poor general health. Instead, HVAC contractors can take steps to improve a home's indoor air quality and keep families safe and comfortable.
About Stonebridge Heating & Air Conditioning
Stonebridge Heating & Air Conditioning has over 20 years of experience serving Tyler, TX, and the surrounding neighborhoods. They provide straightforward pricing, 24-hour emergency services, and the latest technology. Call them today for indoor air quality, AC, or heating services in Tyler, TX.
[press_release_images][/press_release_images]
[press_release_distributions id="170739″][/press_release_distributions]